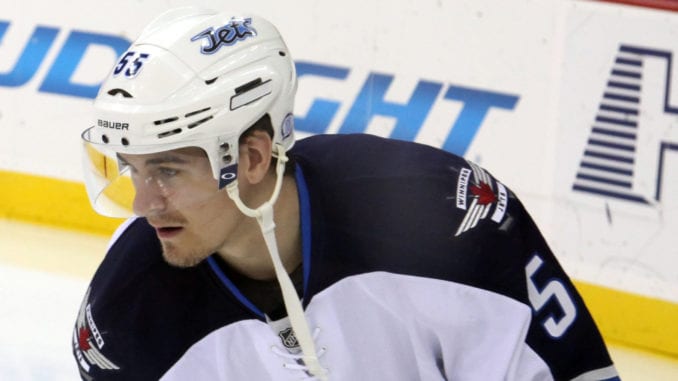 I'm not much one for conspiracies, but I think something's going on here. Much has been made of the fact that Finnish superstar Patrik Laine seems awfully Mennonite with his beard and teetotaling. However, if you look a little closer, we've actually got an entire team of Mennos. Let's have a look at the clues.
Joel Armia – Just like Laine, he's from Finland, which apparently is more full of Mennos than we ever knew. Plus his surname sounds like "army," which Mennonites are forbidden to join. Sounds like someone's got something to hide.
Dustin Byfuglien – His rough and tumble style of play is an awful lot like the Rosenort boys at last year's EM Cup.
Ben Chiarot – Ben "chariot" or, should I say, Ben "buggy"…as in horse and buggy.
Kyle Connor – Should be Rookie of the Year, but won't accept the honour because Mennonites like him are too humble for such awards.
Andrew Copp – Or is it Andrew Koop?
Marko Dano – Mennonites love that game where you bob up and down in the water yelling 'Marko! Dano!' It's good wholesome entertainment.
Nikolaj Ehlers – Ehlers is supposedly the best Danish player ever to take the ice. That can't be right. A Danish hockey player? I'll bet he's actually from Blumenort.
Toby Enström – Although they don't show it on his Jets jersey, Enström is spelled with an umlaut over the O. There's nothing more Menno than umlauts. Well, maybe schmaunt fat. But umlauts are second.
Connor Hellebuyck – Mennonites spend their whole lives trying to buck Hell.
Matt Hendricks – He's supposedly from Blaine, Minnesota, but I heard he spent an awful lot of time in Minnesota's Mennonite enclave of Mountain Lake. I have my sources.
Dmitri Kulikov – You've heard of Russian Mennonites right?
Patrik Laine – Do I really need to rehash the evidence? I think it's pretty clear about Patrik. (Happy birthday, by the way.)
Bryan Little – His surname is so humble it has to be Menno.
Adam Lowry – His mother was a Friesen from Altona. (Or perhaps I could just be making that up).
Steve Mason – You know how Mennonite women are about mason jars.
Shawn Matthias – Matthias is German for Matthew, the first book in the New Testament. Any obvious biblical reference like that smells of Mennonite influence.
Josh Morrissey – One game suspension? How about one nice pair of suspenders?
Joe Morrow – Joe Morrow, Joe Morrow, I love you Joe Morrow, you're only a day away! Annie ranks second only to The Sound of Music in every Mennonite's list of favourite muscials.
Tyler Myers – Did you see how he just took that punch in the back of the knee from Foligno? Talk about "turning the other cheek." Very Menno.
Mathieu Perrault – It's true he plays Left-Wing, but if he's around Mennonites long enough I'm sure he'll switch to the Right.
Tucker Poolman– Playing pool is one of the biggest sins for Mennonites. Mr. Poolman is likely a rebel Mennonite from the city.
Jack Roslovic – This young up-and-comer reportedly spends the off-season baking molasses cookies with his grandmother Nettie.
Mark Scheifele – Played 60 games this year, with exactly 60 points. Seems awfully close to the Mennonite anthem: Hymn 606. Plus nearly every Low German word begins with the letters SCH.
Paul Stastny – Stastny comes from a hockey family. There's nothing more Menno than begrudgingly following in your father's footsteps.
Brandon Tanev – His brother is also in the NHL and plays for the other, less successful, Mennonite team, the Abbotsford Canucks.
Jacob Trouba – Jacob is a very Mennonite first name. I've heard he has a brother Corny and a cousin Abe.
Blake Wheeler – Wheeler? Must be from Steinbach, the Automobile City!
(photo credit: Lisa Gansky/CC)