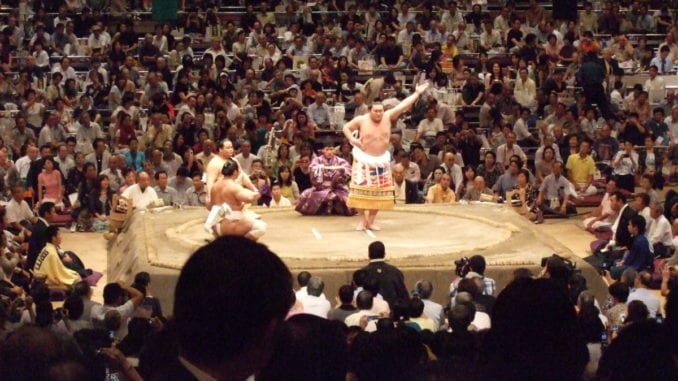 LEAMINGTON, ON
Local man Billy Fehr has decided to quit his job at the Leamington ketchup factory to pursue his lifelong dream of becoming a professional sumo wrestler. Fehr said he made his decision after attending three Easter gatherings and a church faspa this weekend.
"You know, I've given up trying to stem the tide," said Fehr. "Like they always say, if you've got it, flaunt it. Sumo wrestling is a natural fit for any man with decades of Mennonite cooking in their bodies."
Fehr will be heading to Japan this week where he is set to become, shockingly, the first Mennonite man to join a sumo stable.
"I hope to be in shape for the Nagoya Grand Tournament in July. I think I can get in shape if Oma comes along to make me paska and platz," said Fehr. "With a little will-power and a lot of kielke, my goal is to become a yokozuna someday!"
The Japanese Sumo Federation is currently reviewing Fehr's application to see if years of abusing his body with Mennonite food give him an unfair advantage.
"We're examining this man very closely," said Mr. Kobayashi. "The last thing we want is for our sport to be taken over by Mennonites."
Fehr says he's already recruiting his cousins Stan and Timmy as they, too, seem to fit the bill.
(photo credit: gin_e)