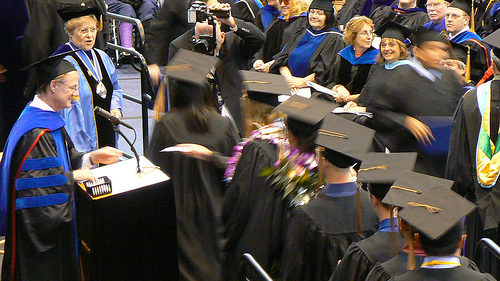 GOSHEN, IN
The 2017 graduating class at South Goshen Mennonite Seminary has graduated a record number of Calvinists this year.
"I must say, it's been an upward trend toward Calvinism in the last few years," said Seminary Dean Arthur Digby-Peters. "More and more of them are slipping through the cracks with their belief in pre-destination and eternal security. It's shocking."
The Seminary bookstore now features a large John Calvin, John Knox, and John Piper section.
"We've got all the Johns," said Digby-Peters. "Not to mention a tonne of RC Sproul. Next thing you know we'll be Dallas Theological Seminary."
The five Calvinists have not been mentioned by name in the report, so rumours have spread that the number is actually much higher.
"Somethings gotta be done to stem this tide of Calvinism," said Digby-Peters. "I'm not sure what it will take, but we're taking this issue very seriously. We can't let anymore Calvinists enter the ministry with degrees from South Goshen Mennonite."
The Calvinists in question reportedly claimed they were pre-destined to get degrees from South Goshen and that they have never once questioned the eternal security of their MDivs.
(photo credit: by bensonk42
)