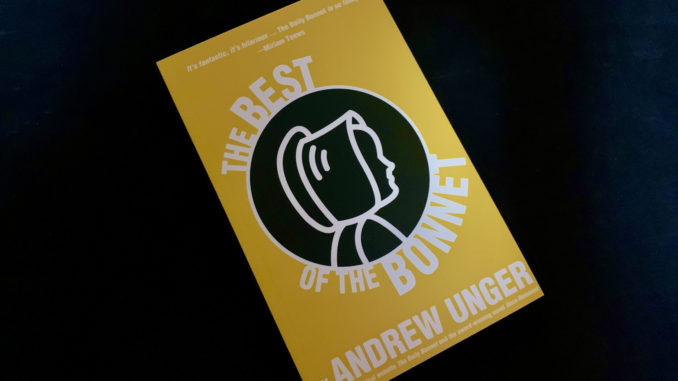 As Mennonites we love a good reading plan, especially one that provides guidance on how to read entire books in just one year. So, with the release of the long-awaited Daily Bonnet collection, many folks have been asking for a step-by-step guide on how to read The Best of the Bonnet in a year.
Step One: Purchase a copy of the book. If you're going to get it done in 365 days, you can't wait to find a used copy at the MCC. The Best of the Bonnet is conveniently available at most local and online retailers and even from the trunk of Mr. Penner's car in the MB lot after the service.
Step Two: Set aside time each day to read The Best of the Bonnet. If it's like me and my Peleton, I've got to make a schedule or I'll never do it. Mornings after meddachschlop are usually good. Reading The Best of the Bonnet right before bed can also lead to vivid dreams of schmaunt fat and knackzoat.
Step Three: Divide the book into manageable sections. For example, on day one, you could go easy and just read half the Table of Contents. Then each day you could read longer and longer sections. You might spend the month of January, for example, reading the "Fe'schlucke" section or maybe you want to concentrate on the "Broodaschauft" articles during the month of March.
Step Four: Study The Best of the Bonnet with a friend. It's much easier to get through the challenging passages when you have a study partner. Or you can wait for the annotated Charles Ryrie version of The Best of the Bonnet. It'll be super useful because it'll tell you exactly what you're supposed to think about the articles you just read!
Step Five: Check the concordance. Thankfully, The Best of the Bonnet features a handy glossary of all the abbreviations (EMC, MCC, CMU, EMMC, MC, GC, MB, GMC, etc.) and words (frindschauft, foarmaworscht, kjnipsbrat, etc.) that you'll find in the book. Taking a few minutes to study the glossary will make your reading much easier!
So there you have it. You've now got all the tools you need so that even a Mennonite could finish a 241-page book in just one year! Good luck in your reading journey!
---
The Best of the Bonnet is available now. If you're able to purchase it at a local bookseller it would be greatly appreciated. For example, here in Manitoba I like to support McNally Robinson, Mennonite Heritage Village, Whodunit, CommonWord and others. If a bookseller in your area does not have it in stock, they should be able to order it. It should also be available through Chapters and Amazon. Thanks for your support!