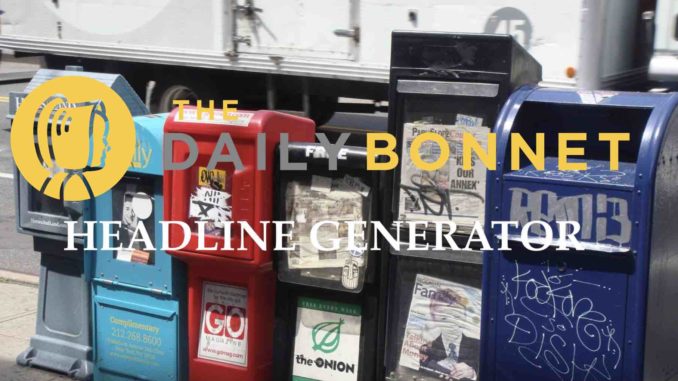 Inspired by the Just Plain Wrong podcast's "Amish romance novel title generator' the Daily Bonnet has created our very own Headline Generator. Simply select your birth month, birth year, last digit of your telephone number, and the age you got baptized and piece the elements together into a headline. For example if you were born in July 1963 with a telephone number ending in 7 and you were baptized at the age of 18, then your Daily Bonnet headline would be:
Altona Pastor Kisses an Old German Hymn Book During Sunday School. Ha ha!
What is your headline?
Your birth month
January – Mennonite Man
February – Mennonite Woman
March – Winkler Man
April – Steinbach Woman
May – Mrs. Reimer
June – Mr. Klippenstein
July – Altona Pastor
August – Abbotsford Oma
September – Kansas Grandfather
October – Mr. Funk
November – Mrs. Pankratz
December – Mennonite Farmer
Your birth year
1950 or earlier – Donates
1951-1960 – Eats
1961-1970 – Kisses
1971-1980 – Falls in Love with
1981-1990 – Destroys
1990-2000 – Marries
2000-present – Spills
Last digit of your phone number
0 – Fifty Jars of Green Beans
1 – Three Empty Margarine Containers
2 – Cousin Harry
3 – the Pastor's Son
4 – a Set of Knipsbrat Knipsers
5 – Schmaunt Fat
6 – Seven Missing Dutch Blitz Cards
7 – an Old German Hymn Book
8 – Torn Brown Nylons
9 – the Complete Writings of Menno Simons
The age you got baptized
Before age 10 – in the Winkler Church Lobby
Between 10 and 15 – at Friday Night Young Peoples Meeting
Between 16 and 20 – During Sunday School
Age 20 to 30 – After Faspa
30 or above – at the MCC Store
Never baptized – on the Lutheran Church Parking Lot