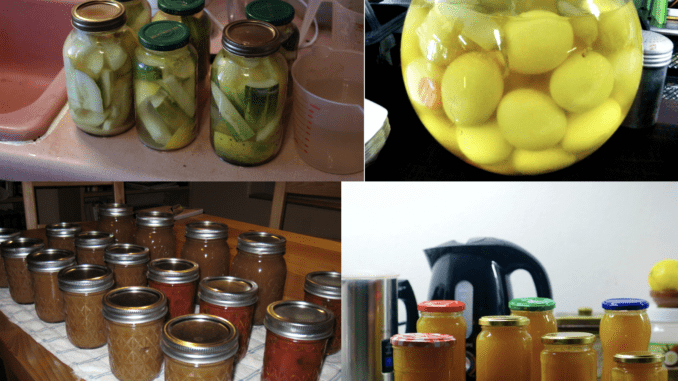 OTTAWA, ON
After the resignation of a jar of Oma Friesen's Dills a few months ago, the Preservative Party of Canada is currently voting-by-mail on a new leader. In the running are a bowl of pickled eggs, a suspicious selection of jams and jellies, and a wide range of cured meats.
"No chemical preservatives entered the race this year," said PPC President Canned Hamm, "but over all I think we're giving the people a good choice of Preservative candidates. Good luck to everyone and may the best Preservative win!"
For Preservative voter Mrs. Friesen of Altona, the choice is not an easy one this time around.
"Normally I just throw everything in the freezer and it stays fresh pretty long," said Mrs. Friesen, "but lately I've been looking into mason jars. My Henry says I should just pickle everything, but I'm worried about his sodium intake as it is."
Dills have always fared well in past Preservative leadership races, but some are thinking a smoked sausage might take it this time.
"The Preservatives are a big tent party, so you're going to see a wide range of preservative methods being employed," said Hamm. "I think the key takeway is that, yes, we have our differences, but in the end we're all Preservatives and we're all interested in making otherwise stale food last just a little bit longer."
The Preservative Party of Canada doesn't have many seats yet, but they're very optimistic they can take on a floundering Justin Trudeau who can't seem to even preserve his own cabinet or integrity at the moment.
(photo credits: Karen and Brad Emerson, Beatrice Murch, Charles Kremanak, Mike Steele, CC)