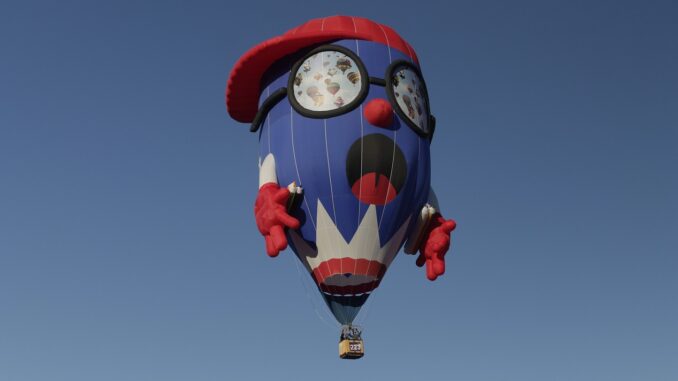 MORDEN, MB
A couple of slingshots and some good aim were all it took to down a massive spy balloon from Winkler that was hovering in the skies of neighbouring Morden for the past few days.
"Luckily no one was hurt," said Constable Unger, "but we did hear an audible 'oba, naaaaaay,' as the airship went down."
A thorough questioning of the airship's passengers quickly followed.
"We discovered it was just some of the Kroeker boys trying to see what life was like in the wilds of Morden," said Unger. "We recovered the balloon in Confederation Park and promptly arrested the spies from Winkler, who have been sent home with the promise that they'll never spit knackzoat into our backyards again."
The Kroeker boys say that even though their mission was cut short, they still made many discoveries about life in Morden.
"We spotted five castles, a Chicken Chef, and a microbrewery," said Billy Kroeker. "Oh, and that Thiessen couple really need to close their blinds during their Sunday afternoon meddachschlops."
In other news, a series of spy balloons from Morden have been sent on a reconnaissance mission to steal all the good plautz recipes from Winkler.