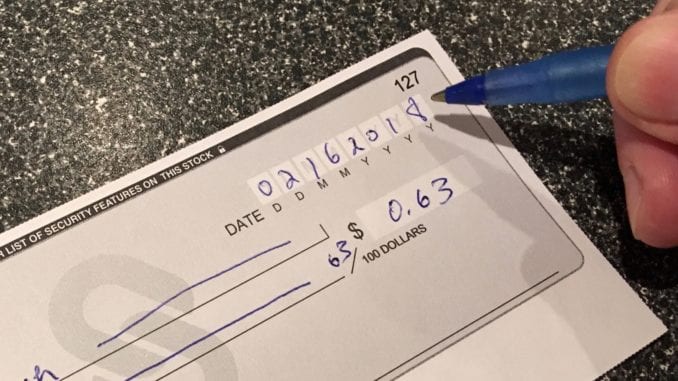 WINKLER, MB
Local woman Ruth Kehler, 76, didn't have the cash with her to pay for the purchase of used margarine containers at Mrs. Wiebe's garage sale. Thankfully, however, she had her credit union cheque book.
"Oh, I'm so sorry Linda," said Mrs. Kehler. "I just don't have any cash. Do you mind if I write a cheque?"
Mrs. Wiebe spent about fifteen minutes tallying up the purchase.
"Let's see that's 31, 32, no 33 margarine containers, plus 26 lids, and 4 elastic bands," said Mrs. Wiebe. "That's totals up to 63 cents! Oh, yes, I do take cheques!"
Mrs. Wiebe agreed to take Mrs. Kehler cheque after writing down her driver's licence information on the back.
"You can never trust anyone," said Mrs. Wiebe. "Not with a cheque this size!"
Unfortunately for Mrs. Wiebe, there was a three day hold on Mrs. Kehler's cheque and it remains to be seen whether or not it will bounce.