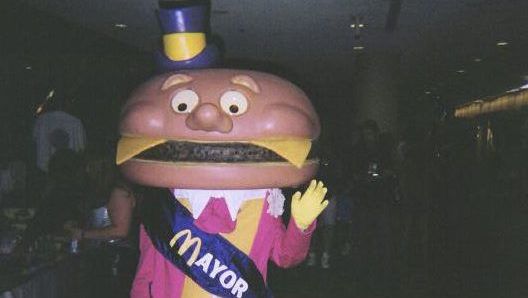 WASHINGTON, DC
In a press conference held earlier this morning Donald Trump announced he was stepping aside and put his full endorsement behind Mayor McCheese. The move came just days after leaked audio publicized degrading and misogynistic statements made by the Presidential hopeful. Republican insiders praised the move as their last hope to win the Presidency.
"At this point our best chance at winning the White House on November 8 is a candidate who doesn't say a word," said GOP representative Alex P. Kreaton. "Plus, unlike Trump, Mayor McCheese has public service experience."
The Republican Party was initially hesitant to accept Mayor McCheese as replacement, but decided that if Trump was going to step down, they needed someone with a similarly limited vocabulary.
"Mr. McCheese will make a great candidate," said Kreaton. "His strong silent nature may contrast with Mr. Trump, but I think voters will be impressed with his superior foreign policy knowledge. Also, if voters are hungry, they can take a bite from his face, which is something Mr. Trump, for some reason, has always resisted."
Despite the McCheese announcement, the Democrats have remained confident they can be victorious in November.
"If polls start to shift in McCheese's favour, we may see the Democrats make a change, too, but for now I think Hillary's got this one," said Clinton pundit Martina Tannen.
Still, reports suggest that the Democrats have already spoken with various candidates who might be willing and able to take over if Mrs. Clinton fails to overcome the McCheese surge. While Bernie Sanders might seem like the people's choice, the party establishment is rumoured to prefer the Hamburglar.
"I don't know what it is about him," said Tannen. "But the Hamburglar just seems like our kind of guy."
(Photo credit: Logan Donahoo/CC/modified)