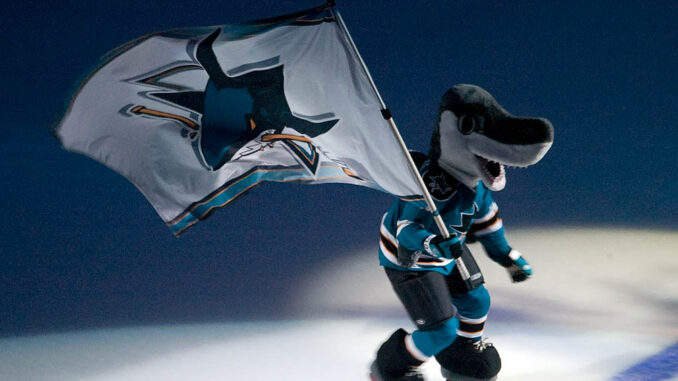 SAN JOSE, CA
Saying that the violent imagery goes against his religion, San Jose Sharks goalie James Reimer has declined to wear the team's jersey.
"It's something that has weighed heavily on my conscience ever since I signed with the Sharks," says Reimer. "As a follower of Christ's non-violent teachings, I can't support this kind of imagery. A shark biting into a hockey stick? I mean, come on!"
Reimer wants to make it clear that he respects sharks, but that doesn't mean he has to support every shark initiative that comes along. The stance has drawn both criticism and support from hockey fans.
"When you sign on with the Sharks you have to figure you're gonna wear the jersey once in a while," said Mr. Plett of Riverton. "I mean, I get it, I don't prefer to wear teal myself, but then no one's paying me 4 million a year to do it, so …"
Meanwhile, Mrs. Vogt says she respects Reimer's decision.
"I remember back in the 80's when all the liberal city Mennos were pressuring us Winkler women to wear slacks," said Mrs. Vogt. "I figure we can all decide what to wear or what not to wear. As long as it's not immodest knee-highs skirts, of course."
The Sharks are quickly redesigning the team's logo to feature a "less violent" shark that would be acceptable attire, even for the team's Mennonite players.
"We'll do all we can to keep our players happy," said Sharks CEO. "A shark munching a carrot stick – how does that sound?"
In other news, in an effort to attract and retain Christian players, the New Jersey Devils have planned a radical rebranding effort as well.
(photo credit: pointnshoot/CC)