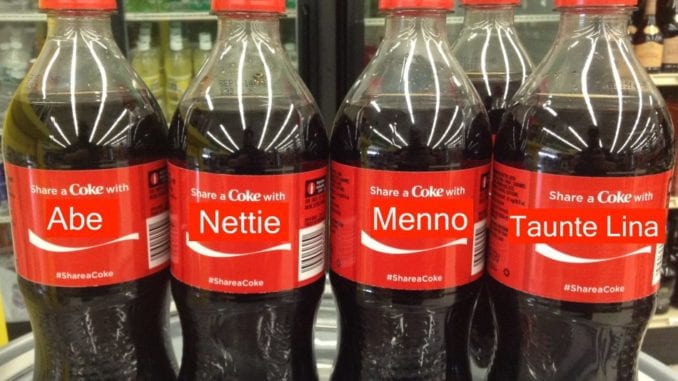 ATLANTA, GA
According to tradition, the preferred cola of Mennonites has always been Pepsi (accompanied by a Ravel bar). In an effort to win over some of the Mennonite market share, Coca-Cola has recently introduced a series of Mennonite-named bottles including Abe, Nettie, Menno, and Taunte Lina.
"We think that if Mennonites try out our product, they'll realize it's not as cloyingly sweet as our competitors," said Coca-Cola sales rep Patricia Carmichael. "We hope that these names will really appeal to the good folks of Gnadenfeld, Kleefeld, and Gruenfeld…all the felds really."
Thanks to the new bottles, Mennonites are now able to 'share a Coke with' all of their frintschoft.
"There are only about a dozen Mennonite first names, so it wasn't a difficult task," said Carmichael. "Basically we just browsed a Grunthal phone book and, within minutes, we had our list of names."
After nearly 7 decades of drinking Pepsi, Taunte Lina of Gnadenfeld was initially reluctant to try a Coke for the first time in her life, but the eponymous bottle convinced her.
"Oba, I naver thought I'd see my name on a Coke bottle yet," said Taunte Lina. "I write my names on the margarine containers in the church kitchen, but naver a Coke bottle. It doesn't give such."
Representing over 70% of sales, all the Abe bottles in southern Manitoba sold out within 20 minutes.
(photo credit: Mike Mozart/CC/modified)