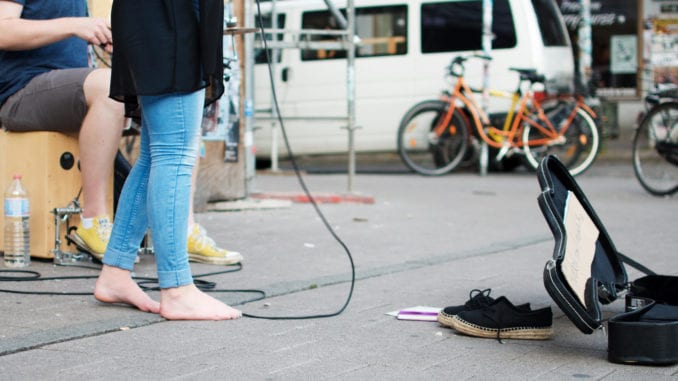 WINNIPEG, MB
Barefoot Nashville Predators  Vegas Knights fan Carrie Underwood was spotted busking for spare change outside the Winnipeg Jets street party on Saturday. After a devastating loss by her husband's team, the grumpy country singer decided she'd head to Winnipeg to see if she could earn a little spending money.
"By game time, I had two loonies and three toonies!" said an ecstatic Underwood. "These Winnipegians are sure generous!"
Underwood played all her hits including "Before He Cheats" and "I Told You So" for the crowd of a dozen or so people who happened to notice her.
"It's nice to see Ms. Underwood getting back to her roots," said Jets fan Dorothy Loewen. "I threw in a couple quarters and a dime to help her out."
Underwood had considered holding a concert in the arena itself, but for some reason it was already booked.
"There must be some kind of event happening in there," said Underwood. "Oh, well, it's nice that I can still sing a few tunes."
After performing a few songs on her own, Underwood called up her husband Mike Fischer to accompany her on the bongo drums. The duo plan to tour North America this Spring…and for the rest of their lives.
(photo credit: Andre Hofmeister/CC)