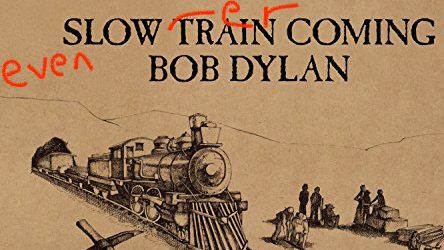 MALIBU, CA
After turning 75 this week, legendary folk-rock artist Bob Dylan has decided to go back into the studio and remix some of his classic albums so they will appeal more to people his own age…and also to Mennonites.
Mennonites have always appreciated Dylan's nasal voice, and have imitated his signature sound in their church singing. Dylan, it seems, is finally capitalizing on his popularity with the conservative religious group, by re-releasing his seminal Christian rock album "Slow Train Coming," this time at half the tempo.
"In addition to slowing it right down, I've also eliminated drums and electric guitar. It's basically an a cappella album – Mennonites love that stuff," said Dylan from his Malibu mansion. "For decades people thought that Christian music thing was just a phase. But now the gospel train is back, and it's slower than ever!"
Label execs are enthusiastic about the new speed, and believe it can appeal to more than just Mennonites.
"We kind of feel that Dylan can be the new Chris Tomlin, but, like, you know, slower," said Columbia rep Marilynn Bouton. "If we can get his songs sung in worship services, this album's gonna sell like hotcakes. He's really hit on an untapped niche–and that is Christian songs sung really really really slow."
Dylan's label has also sent thousands of clothespins to American churches. An accompanying letter encourages church worship leaders to affix the clothespin to their noses to replicate that unmistakable Dylan sound.