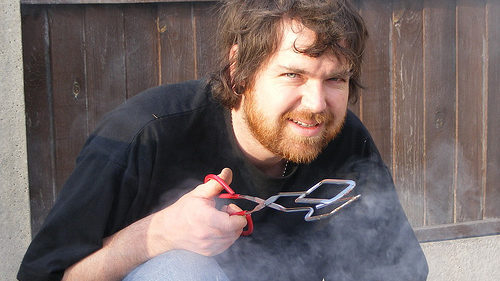 CALGARY, AB
Chaos erupted at the Loewen family BBQ at Prince's Island Park this weekend when the bbq tongs were mixed up with the dog's pooper scooper.
"I'm not sure how it happened, but somehow the tongs we use for cleaning up after the dog, and the tongs we use to flip the burgers got mixed up," said Alice Loewen. "I was about halfway into the burger flipping when I noticed I was using the red tongs not the blue tongs…"
When the mistake was discovered the Loewen family flew into a panic, though, thankfully, only three burgers had already been consumed.
"We've got to have a better system than this!" exclaimed Dan Loewen. "The pooper scooper and the bbq tongs are almost identical!"
When the two devices were presented to Alice, no one in the family could say for certain which was which, and it was decided that both would be discarded immediately.
"Needless to say, we didn't finish our bbq," said Alice. "We decided to take everyone to Peter's Drive-In. This kind of thing doesn't happen over there."
(photo credit: by Jo Jakeman/CC)