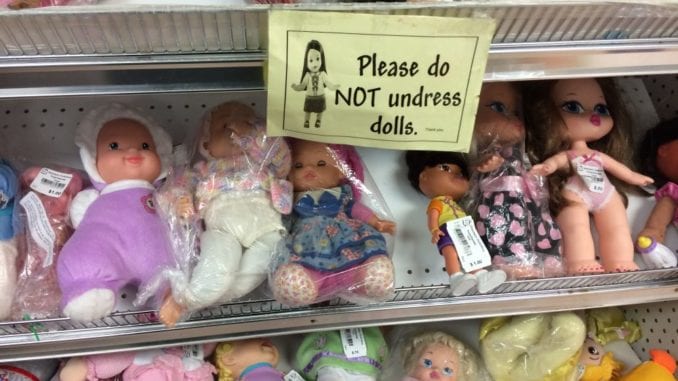 STEINBACH, MB
After an epidemic of improperly covered dolls, the Steinbach MCC has recently addressed the issue with a no-nonsense sign meant to curb the unseemly behaviour.
"I couldn't even walk down the doll aisle there for a while," says MCC customer Martha B. Froese, 81, of Kleefeld. "I'd have to shield my eyes every time I was in the vicinity because of all the partially unclothed dolls."
Thankfully for Mrs. Froese the store has addressed the problem with a polite but firm sign stating "Please do NOT undress dolls. Thank you."
"It's quite the relief," says Froese. "I don't know who was undressing these dolls, but I'm glad to see the store has nipped this problem in the bud. It was really quite alarming."
Since the sign went up the store has seen a dramatic decline in the number of weirdos stripping the clothing from the dolls.
"I still don't like the way some of the dolls around here dress," said Mrs. Froese, "but at least they've got tops on. Thank goodness for that sign."