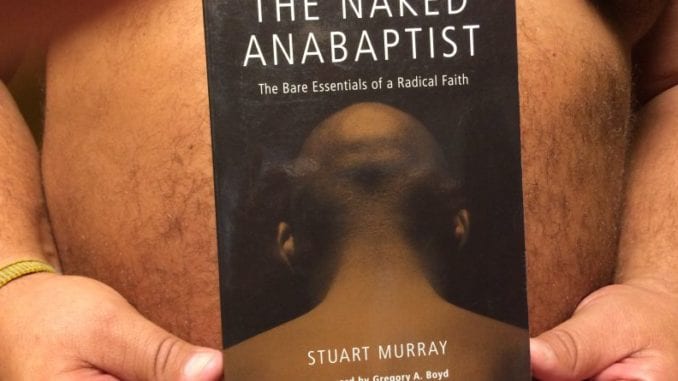 LONDON, UK
Stuart Murray's book 'The Naked Anabaptist' has been monumental in promoting the Anabaptist Christian tradition in the United Kingdom and around the world. For one London man, however, the book has become a little too inspirational.
"I just read the title and I knew this book was for me," says Conrad Taylor of Shepherd's Bush. "If there's nudity involved, count me in on Anabaptism!"
Taylor has been seen throughout London, including appearances on the tube, on the London Eye, and in front of Buckingham Palace promoting his very-literal brand of naked Anabaptism.
"We've arrested him on numerous occasions," said Scotland Yard spokesperson Emma Brown, "but when someone is that zealous for a cause, they're really hard to stop."
Author Stuart Murray was quick to distance himself from his deranged fan.
"When I sought out to describe Anabaptism bereft of any connection to Mennonite culture, I did not intend to describe it bereft of any pants," said Murray. "I was really hoping readers would understand that I was being metaphorical with that whole nakedness thing."
Meanwhile, Conrad Taylor, the staunch literalist, is planning to open up a Naked Anabaptist church somewhere in SoHo.