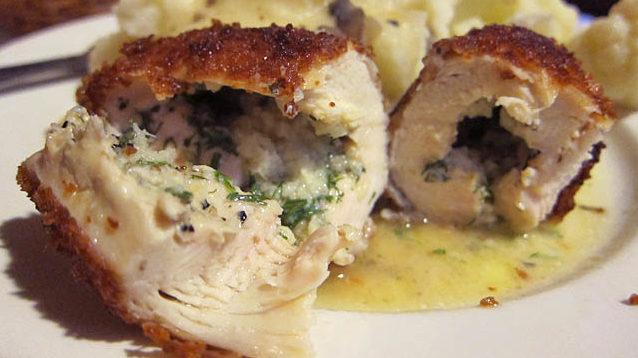 WINNIPEG, MB
Long a staple of corporate banquets, graduation dinners, and wedding receptions, attendees at a Winnipeg retirement banquet on Monday were wowed by the impressive chicken Kiev dish they received.
"When I looked down at the menu and saw what we were having, I got really excited," said Arthur Fuller of Portage la Prairie. "I've been working at this company for thirty-seven years and have awaited this chicken Kiev the whole time."
Boneless chicken breast stuffed with a subtle smattering of garlic and herbs has been the preferred dish when serving any amount of people more than twelve, as it's affordable, easy to mass produce, and so completely bland that even the pickiest of eater is unlikely to be offended.
"I was utterly blown away by the world's least-inspired and flavourless dish," explained Fuller. "I'm really looking forward to having chicken Kiev again at a family wedding this summer–unless they go really crazy and serve chicken cordon bleu or something."
The chicken dish was also accompanied by butter lettuce, crinkle-cut carrots, and two florets of broccoli. The meal was complemented by a lovely orange jello with whipped topping as dessert.
"This banquet meal has really spoiled me for fine dining," said Fuller. "After this, I'm not sure I can ever eat at 529 Wellington again."
(Photo credit  by jasonlam/CC)