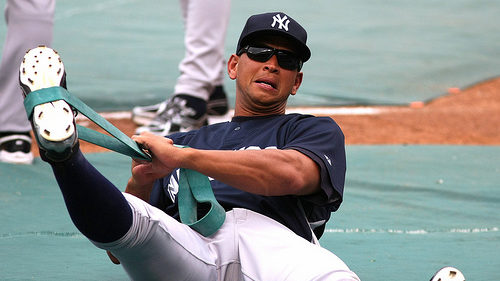 NEW YORK, NY
After a long storied career as baseball's most notable scumbag, convicted cheater Alex Rodriguez will hang up his cleats on Friday, as fans gather at Yankee Stadium to say "good riddance" to professional baseball's biggest jackass since Ty Cobb.
"From my sheer unfettered arrogance and dishonesty, to my repeated steroid use and sign stealing, I've committed myself to bringing disgrace to America's pastime in every way I could," explained Rodriguez. "I've been doing it for more than twenty years, but now it's time to retire and await my rejection letter from the Hall of Fame year after year."
In commemoration of A-Rod's final game, hardcore Rodriguez fans are planning to bring their own steroids for a very special tailgate party before the first pitch.
"My buddies and I going to come early to pop a few 'roids in the parking lot in honour of Alex's great achievements," said super-fan Sully Milgram. "He's been a horrible role model for years, and this is just one way to extend that great legacy. I hope there's a lot of children watching."
At a press conference this week, Rodriguez seemed unusually emotional and told reporters that he felt honoured to be paid twenty million dollars a year to cheat in a game he grew up playing for fun as a child.
"Today," said Rodriguez, failing miserably at channelling the great Lou Gehrig, "I feel I am the luckiest man on the face of this earth."
(Photo credit: by Keith Allison/CC)