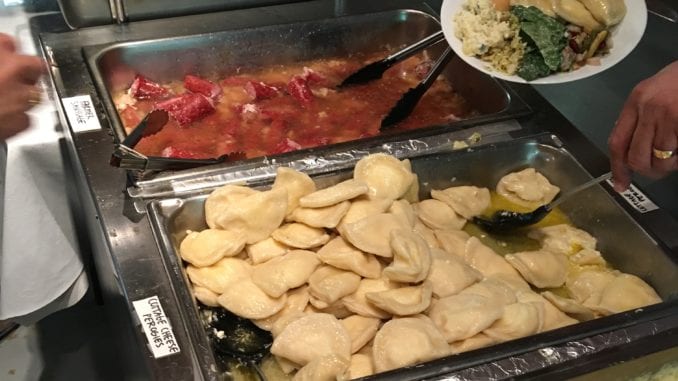 STEINBACH, MB
Sunday, June 17 was the 2018 Manitoba Marathon, an event where Mennonite dads compete to see who can make the most return visits to refill their plates with vereniki and schmaunt fat at the Mennonite Heritage Village buffet. 2018's winner was Mr. Billy Funk, 58, who was still at it Monday morning.
"They tried to turn the lights off and tell me it was time to leave, but I just kept on going," said Mr. Funk. "Jauma, these people make some good vereniki!"
Funk made more than eighty return visits to the buffet table and was still going strong when museum employees showed up to work this morning.
"He's got remarkable stamina, let me tell you," said museum director Barney Dueck. "He's really making sure he gets his money's worth."
On Funk's first visit to the buffet he loaded up on whipped-cream-based salads, but every subsequent visit from 1:00 pm on Sunday until 8:00 AM Monday morning consisted entirely of cottage cheese perogies.
"I'm so proud to be the 2018 Manitoba Marathon winner," said Funk. "But even though I left all my competitors behind hours ago, I'm still going to finish a few more plates!"
The Funk family of Steinbach has a long history of athleticism dating back to the 1960s when Billy's father Abram consumed fifteen bags of knackzoat in a single sitting at the pits near Grunthal.