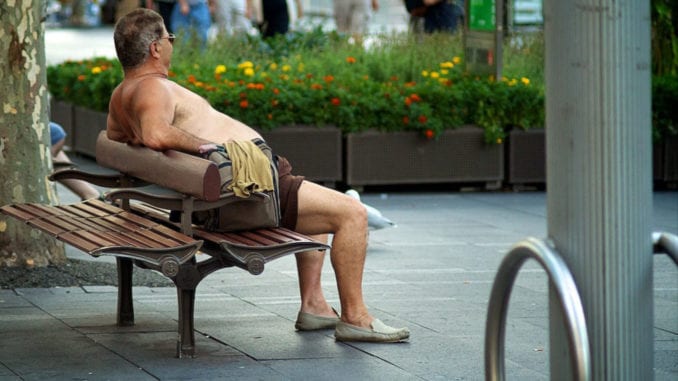 Shocking as the results may be, surveys suggest the majority of women prefer a 'Dad bod' to a more well-sculpted physique. Therefore, in an effort to kindle some romance this summer, The Daily Bonnet has created this guide for Mennonite men to get themselves into perfect 'Dad bod' shape.
I have just three words for you: schmaunt fat. Nothing beats schmaunt fat to get yourself into tip top Mennonite dad bod shape. Ramp up the schmaunt fat consumption, Mennonite Dads, and win back your special ladies!
Knackzoat! Not only is knackzoat surprisingly high in calories, but sitting on your ass for hours on end does really helps tone that gut into the perfect Mennonite shape.
Get the kids to mow the lawn. Tell them it's a chore. The main thing here is avoiding any kind of exercise. Instead, spend the time drinking beer and playing horseshoes.
Watch lots of golf on TV. It's summer and the Blue Bombers and Roughriders only play once a week, so the rest of the time you'll be stuck watching golf. Falling asleep on the couch is a great way to get in dad bod shape.
Attend as many faspas as possible. Chat with your buddies while everyone else is putting away the tables. Attending faspa is great for getting yourself a dad bod, just make sure to look really busy with some important church business or else you'll be roped into putting away the tables and chairs and that kind of physical work would be detrimental to your progress.
Tan with a T-shirt on. The Mennonite Dad bod is about a lot more than just that hairy and slightly rotund shape. It's also about getting those oh-so-sexy tan-lines on your neck and upper arms. If you're not spending much time outside, feel free to stop by at the local tanning studio, but make sure to keep your Kenny Chesney World Tour 2005 T-shirt on!
Use Rogaine…on your chest. It's just not truly a Mennonite dad bod without a heck of a lot of hair. Mennonite women just love running their fingers through that matted mess of thick chest hair. Do her a favour and cultivate that beast.
(photo credit: Brent 2.0/CC)