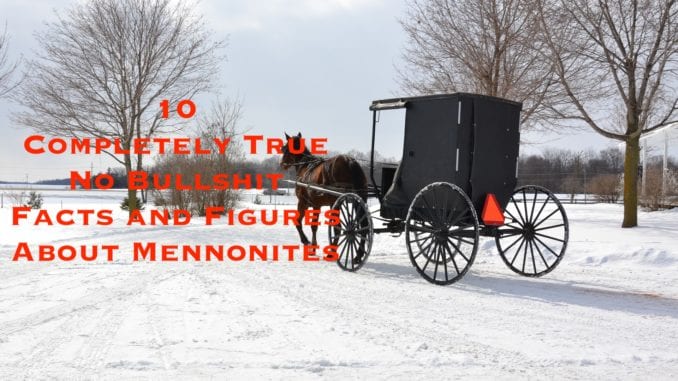 Mennonite Heritage Week is upon us. In fact, it's almost over. But no doubt there will be a few Englisher media publications that will try to write an article or two about us Mennos. And if there's one thing we know about media depictions of Mennonites, is the great lengths that journalists go to make sure they get the facts straight. So, to aid in the quest for truth, the Daily Bonnet has created this 100% true and verified list of facts and figures about Mennonites. No bullshit here.
The average IQ of a Canadian Mennonite is 161, which puts us on par with noted thinkers such as Matt Damon, Stephen Hawking, and Dude, Where's My Car? star Ashton Kutcher.
First man in space? A Mennonite. First woman in Parliament? Also a Menno. First successful human to chimp heart transplant? You guessed it. A Mennonite.
Menno Simons was known in his day for his incredible talent with the Fender Stratocaster. His performance of Hymn 606 at the Witmarsum Music and Arts Festival gave him great renown. He was often seen playing guitar with his teeth and ended each show by lighting his guitar on fire and exiting the stage.
Mennonite cooking is a highly specialized art that requires years of intensive training. The prized delicacy known as vereniki, for example, can be deadly if not handled properly and chefs require special skills to carefully remove the toxic parts to avoid contamination.
There are Mennonites in nearly every country in the world, with the highest Mennonite population per capita being Vatican City, which saw a spike in Anabaptist activity after the inauguration of Pope Francis.
Mennonites spend more money on cosmetic surgery than any other definable group in Canada. Nose jobs are particularly popular. You've gotta have a nice face when everything else is all covered up.
The oldest extant fragments of Plautdietsch writing were discovered in a thrift store in 1947. The Black Sea Scrolls, as they're now known, contain the complete Old and New Testaments as well as a poetic ode to manure spreading by early Mennonite balladeer Kjnels Tiessen.
More than 1000 pounds of roll kuchen were served at Charles and Diana's wedding.
There have been fourteen Jeopardy! champions of Mennonite descent, including the most recent winner Mr. Klassen of La Crete, Alberta who won a record $137,000 in a single match. The La Crete church gymnasium fund has never looked healthier.
Mennonites are among the tallest people on earth. The average height for Mennonite men is 6'3″. For Mennonite women it's 5'10". Please note that this is only when you measure horizontally.
Let's all raise of glass of Roger's Golden Syrup and hope that some of these facts make it into a thoroughly-researched news item, undergraduate essay or Wikipedia article near you.