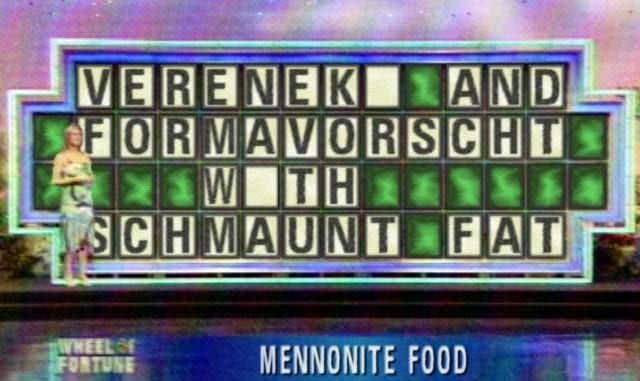 CULVER CITY, CA
Mrs. Carolyn Berg, 63, from Blumenort, Manitoba scored big on 'Wheel of Fortune' this past week after all the puzzles had something to do with Mennonites. She took home more than $120,000, which she plans to use to spruce up the housebarn.
"It was uncanny. A puzzle about perogies. Another one about Conrad Grebel. Then one that was 'Praise God from Whom All Blessing Flow,'" said Berg. "The Lord sure was smiling on me today."
The winnings are the largest in the history of the show, while show producers are attributing the excessive number of Mennonite-related questions to a programming glitch.
"Either that or the Russians have hacked our system," said a despondent Pat Sajak. "I'm going to get to the bottom of this!"
Berg was able to answer every puzzle with ease, while her opponents were left wondering what the heck "schmaunt fat" was.
"Finally after centuries of relentless persecution, the Mennonites catch a break," said Berg. "My only regret is that my grandma Nettie was not alive to see it."
Blumenort elders have already condemned Berg's appearance on the show as "too close to gambling" and are demanding that she apologize in front of the church and donate the money to help pay for next year's Sunday School curriculum.