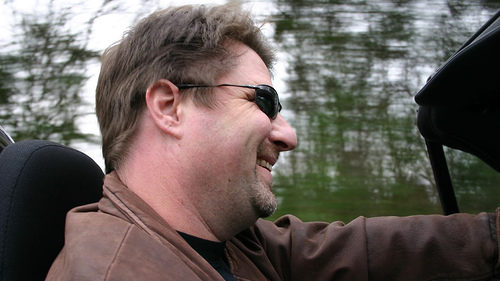 HALIFAX, NS
Mennonite man Paul Warkentin is about to embark on a cross-country journey in his '03 Malibu to raise awareness about safe and courteous driving. The entire trip, which begins in Halifax on Monday, will be completed at, or a little below, the speed limit…and entirely in the left lane.
"I'm calling it the Marathon of Excessive Safety," said Warkentin. "But all my fans are calling it the Marathon of 'Get the Hell out of My Bloody Way!'"
Warkentin said that over the past fifteen years he has been practicing for the voyage by driving back and forth in the left lane between Blumenort and Steinbach during rush hour despite the clearly marked "slow traffic keep right" signs.
"I cut my teeth in southern Manitoba and now I plan to block traffic the whole length of the country," said Warkentin. "I'm also taking donations to pay for gas money."
Warkentin plans to arrive in Vancouver sometime this summer after stopping to take pictures of kitchy roadside attractions across the country.
"Canadians need to learn to be more patient and take life a little easier," said Warkentin. "I don't think anyone should complain. They're lucky I'm not taking my combine."
(photo credit: by CalEvans/CC)