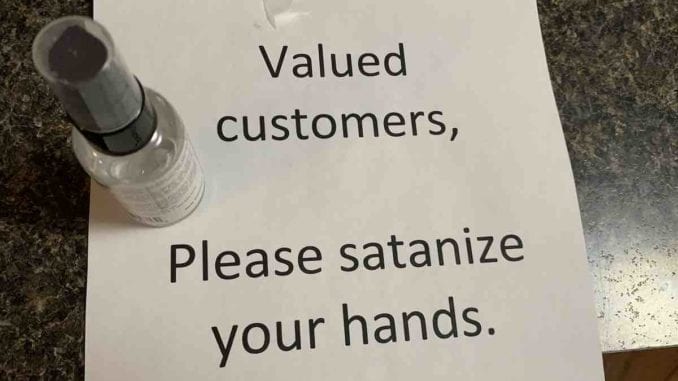 SWIFT CURRENT, SK
Customers entering Dueck Sausage Emporium in Swift Current this week were greeted with a friendly message to "satanize" their hands before entry.
"Diewel, I knew things were bad, but this is getting out of hand!" said Mr. Klassen, who stopped by for a ring of Dueck's famous garlic worscht. "Now, how exactly does this process work?"
Undeterred by the new restrictions, Mr. Klassen thoroughly "satanized" his hands with whatever was in the liquid bottle at the door.
"I sure hope I don't get excommunicated for this," said Mr. Klassen. "But when a man's desperate for sausage, what else can he do?"
While he was up town shopping, Mr. Klassen also stopped by at the local dollar store where he picked up a bunch of "hand satanizer" for home use.
"Things sure all different these days," said Mr. Klassen. "All this time, I thought that to 'satanize' your hands meant to cough all over them and go around without washing."
When the error was realized, the sign was taken down and replaced with another one reminding customers to "sanitize your hams."