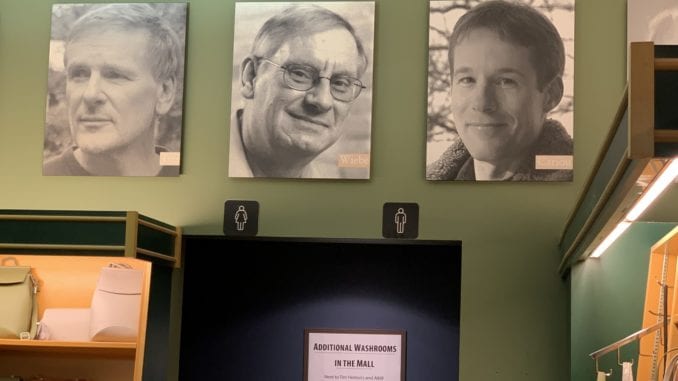 WINNIPEG, MB
Of all the honours that Mennonite literary icon Armin Wiebe has received over the years, perhaps the greatest of all is to have his visage hanging over the washrooms at McNally Robinson Booksellers.
"That's a prime spot if there ever was one!" explained Wiebe. "Just think of how many people pass under my picture each day with an urgent need to use the facilities!"
The walls of the Winnipeg bookstore are lined with photos of notable writers, but only one has such a prominent location.
"When I was growing up in Gutenthal as a young boy," said Wiebe. "I never ever would have imagined that someday my photo would be on the wall above the loo!"
Wiebe's picture has hung up there for so long that the term "Using the Armin" has entered into the local lexicon.
"I'll be right with you, darling. Just got to use the Armin," said Mrs. Klassen.
"Where's the Armin in this place? Oh there it is! Of course!" said Mr. Thiessen.
Armin Wiebe, however, doesn't mind all the extra attention.
"Hey, as long as they're buying a copy of Yasch Siemens or Grandmother Laughing on their way to the Armin, it's fine with me," said Wiebe. "Besides, you should see where they put Miriam."