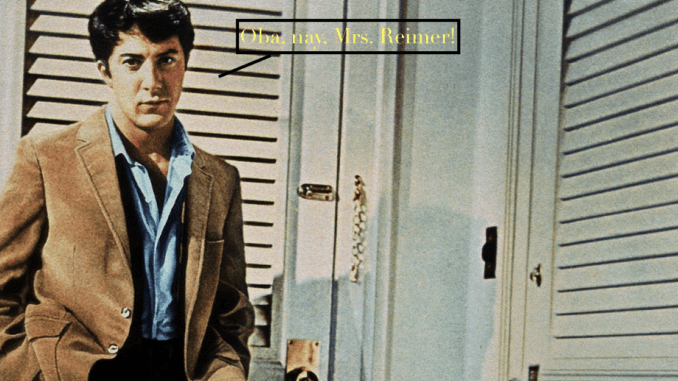 HOLLYWOOD, CA
Where have you gone, Joe DiMaggio? Indeed! A lot has changed in the past fifty years since the release of the 1967 classic The Graduate. Five decades later the film is being given a reboot, with a Mennonite twist.
"We've got Mrs. Reimer from Fresno signed up for the role. Other than that the story is basically the same," explained executive producer Mike Nikkel. "An older Mennonite woman uses her brown nylons and sneakers to seduce a recent graduate, who somehow spent three years in Bible college without finding a suitable life partner."
In the remake, Mrs. Reimer is trying to keep the young man away from her daughter Aganetha.
"She bakes him cookies, she stands next to him in choir practice," explained Nikkel. "Mrs. Reimer will do absolutely anything to keep him away from her daughter. She even offers to snuggle up next to him during his Sunday afternoon meddachschlops."
The movie also features a memorable soundtrack by the Mennonite folk-rock duo Paul Siemens and Art Funk.
"Wait until you hear the tunes!" said Nikkel. "'God bless you please, Mrs. Reimer. Heaven holds a place for those who pray…and are baptized upon confession of their faith. Hey hey hey, hey hey hey."
It's not yet known whether Dustin Hoffman will return to reprise his role, but considering that Mrs. Reimer is turning 103 next month, the age gap between the two characters should remake intact.