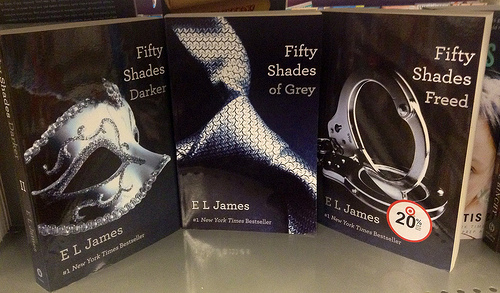 STEINBACH, MB
Local senior, Helen Stoesz, was shocked by the misleading content of the popular book Fifty Shades of Grey, which she purchased used at the local MCC store hoping for advice on how to update her wardrobe.
"Currently I've got twenty or thirty shades of grey in my closet," said Stoesz. "Some of the ladies in the manor have close to forty, but, oba, never in all my years have I heard of anyone with fifty shades of grey."
The sheer volume of grey shades were what initially drew Stoesz's attention, but the intriguing story of forbidden romance kept her reading for a while.
"It wasn't quite what I was expecting," said Stoesz. "I mean, back on the farm we did use the belt if we needed to, but not like that…"
Stoesz says after a while she just had to put the book down. She now plans to track down it's former owner, Erin Dueck, who had scrawled her name in pen on the title page sometime before donating the book to the thrift store.
"Miss Dueck should be able to explain the book to me," said Stoesz. "I don't really understand it, but all I know is that it has very little to do with maintaining a monochromatic wardrobe."
(photo credit: by JeepersMedia/CC)