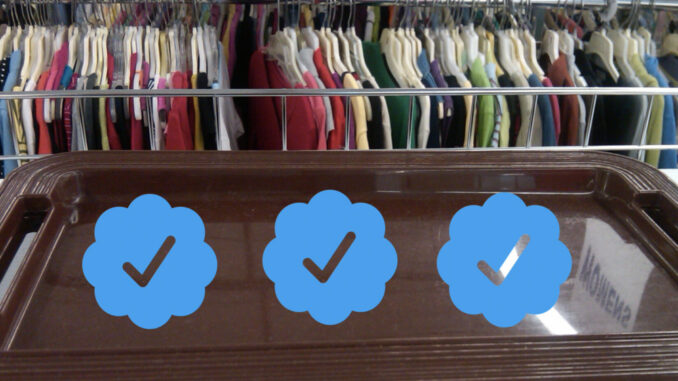 AYLMER, ON
It was the biggest bag sale Aylmer has ever seen as volunteers worked through the night to stock the shelves with all the discarded blue checkmarks they've been getting since Elon Musk took over Twitter. The next day, Mennonites flocked to Aylmer MCC to get their hands on a nice cheap blue checkmark.
"Diewel, look at this lineup!" said Mennonite Twitter user Sherri Klassen, who camped out overnight to be first in line. "It's amazing the bargains you can get on blue checkmarks these days. I've never seen such prices!"
The implementation of a new $8 a month fee has caused Mennonites to abandon their blue checkmarks at an alarming rate.
"I'm hoping to pick up Bill Redekop's used blue checkmark here very soon," said Klassen. "Oooh, and maybe Shauna Rempel's blue checkmark will soon be up for grabs!"
MCC stores are charging just 25 cents a month for the used checkmarks, or 20 cents a month if you take home a bag full of them.
"Which I fully intend to do," said Klassen. "I plan to put them in the tute this year at Christmas."
At press time, Aylmer MCC was all out of blue checkmarks, but anticipates a fresh supply this Saturday morning after Musk reinstates Trump.
(photo credit: Mad Mod Smith/CC)