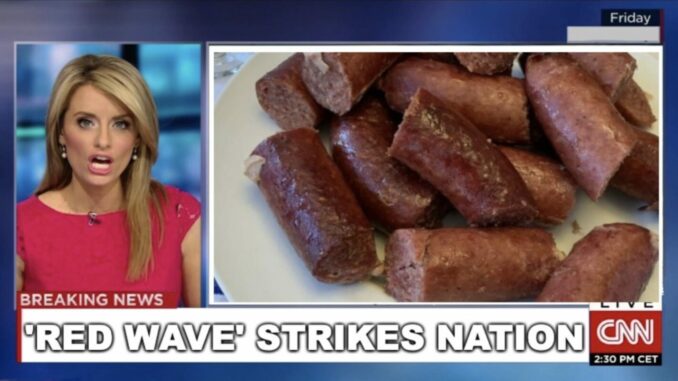 TOPEKA, KS
Desperate for a narrative that would prove their analysis correct, dozens of political pundits are now saying that the "red wave" they'd been predicting for weeks was actually nothing more than a huge uptick in the popularity of Mennonite farmer sausage.
"It's red … well, red-ish," said CNN reporter Jim Acosta. "Having just tried the stuff myself for the first time this week, I must say it's delicious. I totally understand this red wave thing."
Mennonite butchers had a hard time keeping up with the red wave and had been working overtime to keep up with the demand.
"We've literally flooded the state capital with our sausages," said area farmer Isaac Penner. "Everywhere I go people are asking for a good hearty Mennonite sausage. I know she's a Democrat, but I'm hoping we can even convince Governor Kelly to give it a try."
Eager to restore their reputation for high quality political reportage, CNN is already predicting a "white wave" of vereniki and schmaunt fat for the 2024 elections.
"I've learned very quickly that you can't have formavorscht all on its own," said Acosta. "I apologize for my error, but, you know, this politics thing is a lot more difficult than it seems."
Meanwhile, some networks are reporting that this influx of farmer sausage is yet another example of foreign interference in American politics, as most of the sausage is believed to have been snuck into the country by Holdeman Mennonites from Canada who were visiting relatives in Kansas.