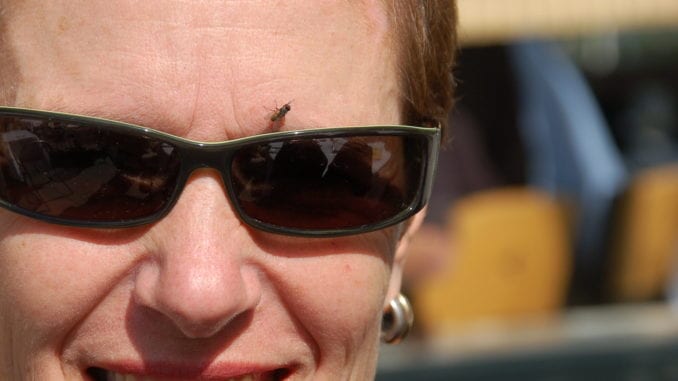 SASKATOON, SK
Pastor Rebecca Engbrecht, 43, of North Saskatoon Mennonite Church preached through the entire Book of Lamentations this past Sunday without even noticing there was a fly on her forehead the entire time.
"Wow, when Pastor Rebecca digs into the Scripture like that, she really digs!" said church goer Mrs. Froese. "That fly was sitting there right above her right eyebrow for a good forty minutes and she didn't even flinch."
Pastor Rebecca soldiered on through the sermon and wasn't at all fazed by the intrusive insect perched on her face.
"You know they always say that Pastor Rebecca would never hurt a fly," said Mrs. Froese. "I guess this morning that's been confirmed once and for all."
Pastor Rebecca says she took a vow of pacifism when she entered the ministry and doesn't plan on breaking that pledge now just because there's a fly on her face.
"I'm a Mennonite and Mennonites persevere," said Pastor Rebecca. "Besides, if I can tolerate those annoying elders at the weekly board meeting, surely I can tolerate a fly on my face all Sunday morning."
Pastor Rebecca is well-liked by her congregation, but everyone in the church lobby agreed that had that been their former pastor Dave up there, they'd all have been reaching for their fly-swatters.
(photo credit: Stephanie Young Merzel/CC)