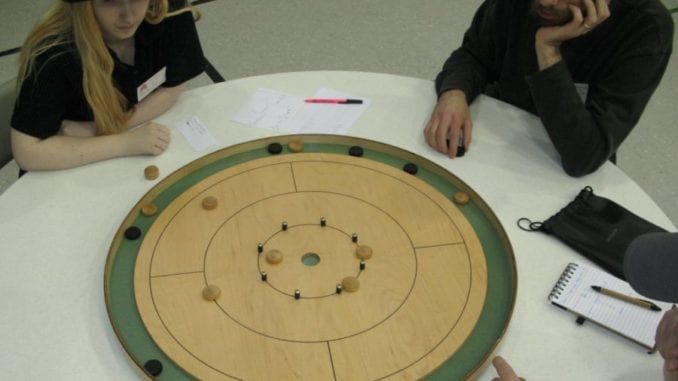 CALGARY, AB
With just minutes left to play in game 5 of the Alberta crokinole finals, it seemed that Calgary's Blake Kornelsen had flicked the twenty of his life. However, after consultation with the video replay judges, Kornelsen's twenty was waved off, saying they detected a "distinct kicking motion."
"Some will say that twenty was going to go in anyway, or that Mr. Penner bumped his elbow, but the rules are the rules," said Eye-in-the-Sky Judge Peter Wiebe. "Your feet and one butt check must remain on the ground at all times when you're flicking."
The Edmonton Wonder Oilers eventually won the game in overtime, when they totalled 105 points with a fine-looking twenty of their own, but the outcome remain controversial.
"I don't know what's with the video judges," said Calgary fan Jeremy Goerzen. "They've been allowing twenties like that all season and now, all the sudden, they're ruling against it? I'm guessing that Mr. Wiebe is from La Crete or something. They're big Edmonton fans up there."
Angry Calgary fans claim they're going to be cheering for anyone but the Edmonton Wonder Oilers in the next round.
"I'm pretty sure they can't really flick in Colorado," said Goerzen, "but fingers crossed they've recruited a couple experienced flickers from the Fraser Valley or something."
The winner of the Edmonton-Colorado series will go on to flick against a team from Kitchener, Ontario who went 4-0 in their tournament this weekend at the New Hamburg Mennonite Relief Sale.