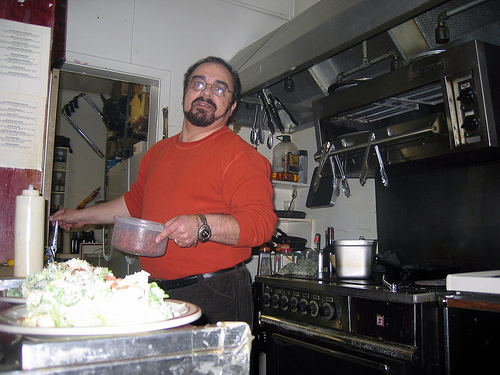 LINDEN, AB
Local man Mr. Benjamin Harms has been writing recipes under the pseudonym Martha Pankratz for the past thirty years. With this female pen name he has published recipes including schnetke, buttazupand a delightful jellied veal in a wide variety of prominent Mennonite cookbooks.
"My first recipe was in the 1985 EMMC Ladies Cookbook," said Mr. Harms, proudly displaying his recipe for komst borscht. "I've even got a fabulous recipe for Oma's Cookies in a mid-90s EMC Treasury."
In the 1800s women such as Mary Ann Evans (George Eliot) had to write novels under a man's name just to get published. In the modern world of Mennonite cookbooks, however, the reverse problem exists.
"If you send in a papanaterecipe with the name Henry Wiebe or Abe Dueck, they'll just laugh and toss in the trash," said Harms. "That's why I have to use a pen name. In Mennonite communities the gender roles are very prescribed. Men can butcher the hogs, but we aren't allowed to cook them."
Harms felt that it was finally time to reveal his true identity.
"I know many people will be shocked to discover they've been using a Mennonite man's zweibackrecipe all these years," said Harms. "But people should get with the times. It's 2017. Mennonite men should be allowed in the kitchen."
(photo credit: by miguelb/CC)