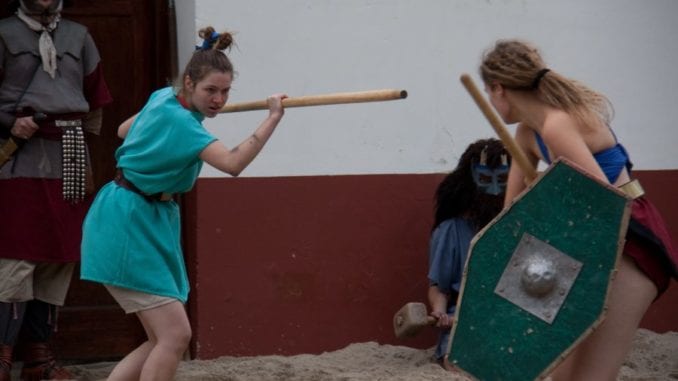 WINNIPEG, MB
Folklorama is an annual festival celebrating the harmonious multicultural mosaic of Manitoba. However, conflict erupted this year after organizers required Mennonite Brethrens and Mennonite Church Canada (formerly General Conference) members to share the very same 'Mennonite Pavilion'.
"There's no way I'm sharing a booth with one those liberal General Conferencers!" shouted visibly-distraught MB member Mrs. Friesen, spear in hand. "How can anyone say we're the same culture?!"
Since splitting into two groups in 1860, the MBs and MCs have distinguished themselves from each other in a variety of ways. Notable areas of difference include mode of baptism, some social issues, and views on the proper crimping of perogies.
"Plus we're much better singers," said Mrs. Friesen. "You can't possibly expect me to share a hymnal with someone who can't tell an F sharp from a G flat!"
Efforts to share the pavilion resulted in intermittent gladiatorial-style fights throughout the evening, with equipment borrowed from the Italian Pavilion. The two groups tried, without success, to share the pavilion for an evening, but after a few hours with many Mennonites hospitalized, both the MBs and MCs decided it "just wasn't working."
"There's a reason we can't share a church building," said General Conference member Mrs. Fehr. "It's the same reason we didn't even invite the EMCers at all. We actually agreed with the MBs on that one."
While some have pointed out that Mennonites, as a religious denomination and not a distinct culture, shouldn't even have a pavilion, others praised the efforts of the organizers to unite the two groups.
"I like it. Put all the Mennonites in the same pavilion," said Folklorama attendee Earl Reimer. "I mean, Lord knows if we allowed every Mennonite group with some trivial theological difference to have their own spot there'd be a 1000 different Mennonite pavilions here. One is more than enough I say."
(photo credit: Hans Splinter/CC)