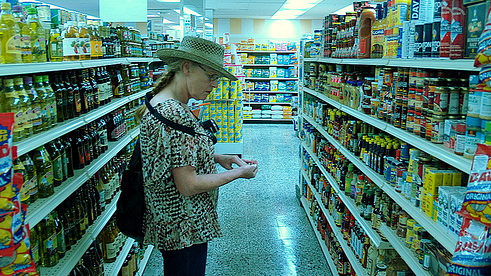 STEINBACH, MB
Even though the store was bought out by Sobeys years ago, local woman Susie Wall, 85, remains one of only a handful of Steinbach residents who still insist on doing their grocery shopping at the non-existent Penner Foods store.
"I'm going over to Penner Foods to pick up some star anise and black liquorice," yelled Mrs. Wall down the hall of her manor home. "Can someone give me a ride?"
Wall says she still stops by at Penner Foods at least once a week, a tradition she has carried on since the mid 60s.
"I've seen many things change in town, but Penners remains the same," said Wall. "Even the parcel pick-up service is tremendous."
When she feels like splurging, Wall purchases a bag of La Cocina chips and Winnipeg Old Country bologna at Penner Foods.
"I don't care what weltlijch name the young people are calling it these days," said Wall. "It will always be Penner Foods to me. And I will keep on shopping there until the day I die."
(photo credit: by Number Six (bill lapp)/CC)