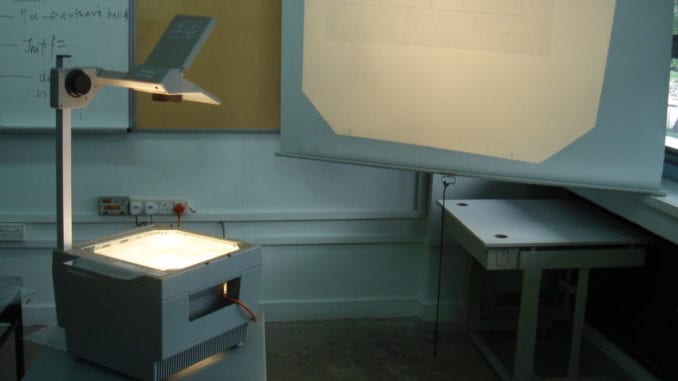 REINLAND, MB
The local Old Colony church is making waves in Reinland this week after purchasing a used overhead projector from the MCC. After singing hymns out of the hymnal for centuries, the church is now experimenting with "Shine Jesus Shine" projected just above the place where all the elders sit.
"We got the ladies to write out all the words with their black markers on the transparencies at the Wednesday Bible study," said Elder Krahn. "Dan we got one of the young people to turn it on and shine it against the wall yet."
The women's section was quite pleased with the new technology, though many of the men were upset at the change.
"Dat bright light makes it hard to see Miss Martens over dare," said young Abe Wall. "And, oba, let me tell you, Miss Martens is the only reason I come to church!"
The congregation sang three "Praise and Worship" songs via overhead and even one responsive reading yet.
"I'm not sure if it really makes any difference. You read it from a book, or you read it off the wall. Makes not difference to me," explained Wall. "I'm all for change. I'm hoping the elders eventually let us wear jeans and sit mixed in with the ladies."
After the service, the overhead projector guy spent three hours trying to wash the black marker ink off his hands.
(photo credit: mailer_diablo/CC)