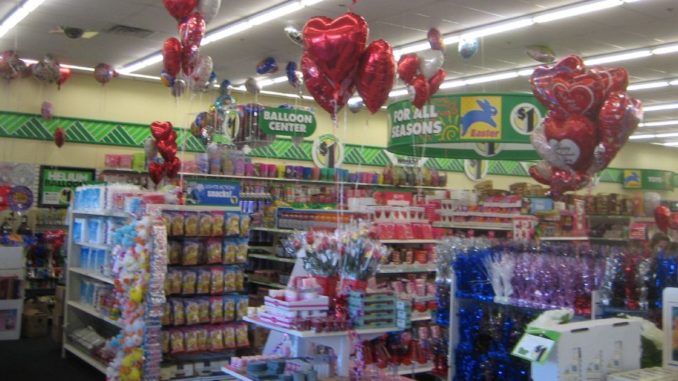 WINKLER or STEINBACH, MB
As stores offering non-essential items such as helium balloons, cotton swabs, colourful napkins, and hair ties reopen in Manitoba, the lineup outside dollar stores has grown to enormous lengths. So long was the lineup this Saturday, that experts could not identify whether the line started at the Clearspring Mall in Steinbach and ended at the Southland Mall in Winkler or the other way around.
"I've been lined up since 6 am to get my hands on some inexpensive cinnamon hearts," said Mrs. Driedger, who was lined up somewhere near Morris. "Got here early, but I still wasn't at the front of the line. Those Loewens and their penchant for last minute dollar store Valentine's cards and coffee filters."
Mrs. Driedger, who was spaced six feet apart from a Mrs. Dueck and another six from Mr. Plett, wasn't sure which direction the line was going.
"Either way I'll end up at a dollar store sometime this afternoon," said Mrs. Driedger. "I just hope they have some press-on fashion nails when I get there. My Earl just loves it when I wear those."
Mrs. Driedger said she used the hand sanitizer when she got in line just past Lowe Farm and plans to re-sanitize in Myrtle or Kane.
"That is unless I'm going the wrong direction," said Mrs. Driedger. "All I know is this is the line for the dollar store and that's good enough for me."
Reports indicate there is an equally long line between the Grunthal and Altona MCC store and no one knows what direction that one is going either.
(photo credit: Anselm Hook/CC)