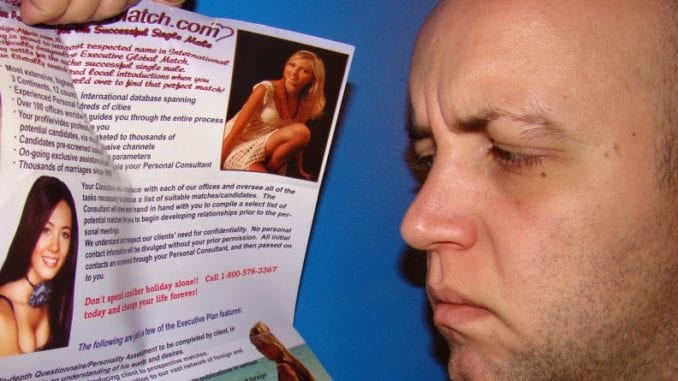 EDMONTON, AB
After spending most of his life as a bachelor, 43-year-old Edmonton resident, Jeremy Robertson, decided to purchase a Russian mail order bride with the money he inherited from his Great Uncle Bobby. The bride, however, wasn't exactly as the advertisement depicted.
"They said she would be a 'Russian'. They didn't tell me that meant a 72-year-old Russian Mennonite widow from Altona," says Robertson. "I don't want to complain, but she does a lot more ironing and borscht-cooking than I was led to believe. Not as advertised."
Robertson was under the impression his new bride would be just like the women depicted on the website.
"There are some advantages of being married to an elderly Russian Mennonite. For one thing, the food is great," said Robertson. "But I don't appreciate the fact that she forces me to go to church every single Sunday."
Robertson paid over $30,000 to initiate his relationship with Martha Dueck, a descendent of Mennonites from the Molotschna Colony, but is considering asking for a refund.
"She can go back to the manor in Altona, if I can get my 30 grand back," said Robertson. "I think that's a fair deal."
In response, Altona bachelor Steve Unger said he'd be more than willing to take Martha off Mr. Robertson's hands…but, always seeking a bargain, proclaimed that he's not willing to pay more than about ten grand or so.
(photo credit: by istolethetv
)