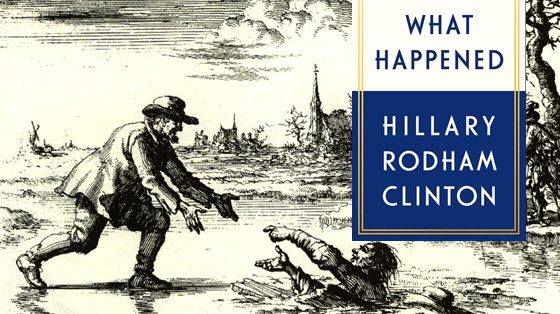 NEW YORK, NY
Less than a year after having the Presidential election brutally ripped from her grasp by the villainous Donald Trump, Hillary Clinton has churned out a brand new book that explains, in vivid detail, her sad tale of persecution at the hands of the voters. What Happened: The Story of My Martyrdom was released earlier this month and instantly skyrocketed to the top of the Best Sellers list.
"The American people had come to trust the Clinton brand for good governance and sincerity of heart," said Clinton, "but in November 2016, the people turned against me, like an angry lynch mob spurred on by ugly Russian-sponsored propaganda. With only millions of dollars and the support of every major corporation to console me, I was tarred and feathered and left for dead."
In her new book, Clinton claims that she was subjected to persecution because she stood up for what she believed in.
"Forget all those sordid tales of people who died for their faith. If you want to see the real face of a martyr, you only need to gaze into the inside flap of my dust-jacket," explained Clinton, with tears in her eyes. "I was persecuted for all my strongly-held beliefs and values that I stole from Bernie Sanders numerous weeks before the election."
What Happened has already netted Clinton more than ten million dollars, a fact that did not go unnoticed by the self-proclaimed martyr.
"It'll be rough being forced to spend the rest of my life doing speeches for Goldman Sachs," said Clinton, "but like all the bloodied and battered men and women of faith before me, I will prevail!"
Clinton's new book also claims that she's just two miracles away from being canonized by the Catholic Church.