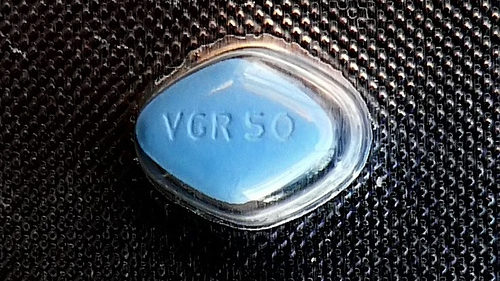 SILVER SPRING, MD
After rigorous testing in a secret facility somewhere near Harrisonburg, Virginia, the United States Food and Drug Administration has approved the sale of a controversial new pharmaceutical product called 'Mennonite Viagra.' The little blue pill was a street drug until now, and was known to make young Mennonites absolutely irresistible even to their own second cousins.
"We're glad there's finally a product on the market made by and for Mennonites," said local plumber Dan Yoder. "This was something the Mennonite community had been anticipating for decades."
Mennonite Viagra is filled with a combination of organic herbs and spices such as dehyrdrated schmaunt fat, star anise, and dill weed, as well as a few chemical compounds created especially for Mennonites.
"Mennonites are well known for their performance anxiety," said Yoder. "What can I say? We're just a nervous people. However, this new Mennonite Viagra will mean I can have all the confidence in the world at the next extended family gathering."
It is not known if the product will be sold in Canada, but Canadian Mennonites have already been smuggling cases of it across the border.
"I think this pill will save my marriage," said Ontario Mennonite Susanna Harms. "I've tried everything–vereneki, kielke, waffles and white sauce–but my husband Harold and I just haven't been able to have the 16th child we've always wanted. However, this new pill really helped us out, let me tell you."
Statisticians expect that the new pill will mean a significant rise in the North America Mennonite population not seen since the Great Continental Blizzard of '62.
(photo credit: by Felixe/CC)