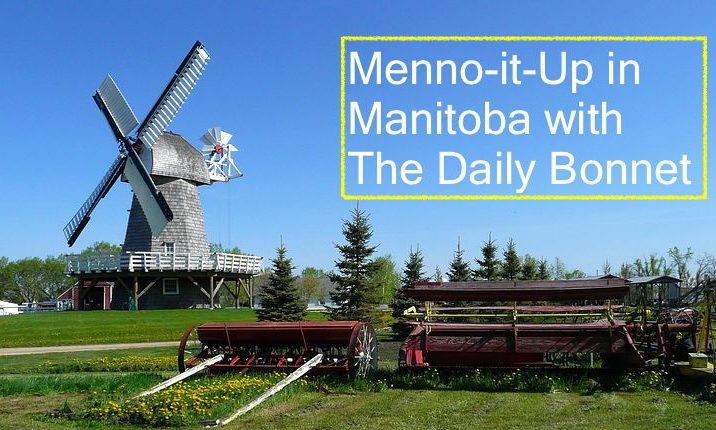 A lot of people ask me, "Oba, Andrew, you write all these things about Steinbach, but just what is it really like?" Well, why don't you come find out for yourself? It's a fabulous place. Really. Plus, it's summer! Time to Menno-it-up in southern Manitoba!
Where to Eat: This is the first thing everyone wants to know and also the main reason to come to the Hanover Municipality. You'll have to ask others for recommendations in the Winkler area, but if you're in Steinbach and you're looking for authentic Russian Mennonite treats such as vereneki, kielke, formavorscht, and borscht try MJ's Kafe, conveniently located right across from the MCC Store on Main Street, or the Livery Barn Restaurant at the MHV. Actually….try both. There's also great Paraguayan Mennonite empanadas at El Vecino. Of course, man cannot live on schmaunt fat and borscht alone, which is why I often to go Viet House for their addictive rare beef pho. I know I lose Menno points for that, but the food is so good I don't care.
There are a lot of great things to eat and drink in Winnipeg, but if you want to go Menno, the best place to do it these days is at The Dawning on Portage Avenue or The Don on Donald.
What to See and Do (Winnipeg): There are actually a few Mennonite-related things to see in Winnipeg. First, stop by at the Mennonite Heritage Centre Gallery on the campus of the Canadian Mennonite University. (Look out for hipsters). Then, head across town to North Kildonan, the heart of Winnipeg's Mennonite population. On the corner of Henderson and Edison (not very Menno sounding names, I know), you'll find a monument to Mennonite settlers in the area.
Spend the rest of the day at the Canadian Museum for Human Rights at the Forks, which has a number of exhibits on Mennonites, including the story of the persecution of pacifist Mennonites by Prime Minister Robert Borden. After this you'll probably need a drink. There's a good selection of local craft beer and (not local, because we have no grapes up here) wine at The Common at the Forks.
What to See and Do (Steinbach area): After a few days in Winnipeg (there's a lot more to see there than Menno stuff…but you can find that information elsewhere I'm sure), drive south on Highway 12 (of A Complicated Kindness fame) to Steinbach and visit probably Manitoba's most famous Mennonite-related attraction, the Mennonite Heritage Village museum. I'm kind of bookish and nerdy so I like to spend a lot of time at the indoor exhibits, but most of you, who are not as averse to sunlight as I am, will want to head outside and enjoy the pioneer village. You'll see firsthand why our ancestors didn't spend more than one winter in the semlin. I have visited the MHV dozens of times in my life and still come back…of course, it helps that they have totally epic schmaunt fat.
Another interesting thing to do in Steinbach is a self-guided Heritage Walking Tour, which outlines the traditional Mennonite settlement along the once-bustling 'Stony Brook'. Highlights include the Hanover Homestead and the Pioneer Cemetery, featuring a cenotaph to Steinbach's first Mennonite settlers. (I am related to most of them. So is my wife…) Another highlight of the tour, especially if you're a Miriam Toews fan, is the Jake Epp Library which features a Reading Garden honouring Melvin Toews (Miriam's father and subject of Swing Low).
Now, you should head west on Highway 52. Just outside of Steinbach, you can see the original Randolph Chortitzer Church, and a few minutes further (and a little south), will bring you to the very first Russian Mennonite settlement in Canada, which is the village of Kleefeld. Keep going on the 52, and in less than twenty minutes by car (much longer by buggy), you'll reach the Mennonite Memorial Landing Site near Niverville, which commemorates the place the Mennonites first landed in Western Canada…as well as an excellent spot to fish on the Red River and then lie about the size of the fish you caught.
What to Do and See (Winkler Area): Over in Jauntsied, the most interesting Mennonite attraction, in my opinion, is the town of Neubergthal near Altona. It is one of only two Mennonite-related National Historic Sites of Canada (the other is in Waterloo, Ontario) and is worth a trip to see a well-preserved collection of authentic Mennonite housebarns. While the Friesen housebarn is open to the public, people still live in most of these housebarns, so, come on now, folks, be respectful. I know that Ditsieders don't often venture over to Jauntsied, but, trust me, Neubergthal is more than worth the trek. Altona also features a monument to the Mennonite settlers who arrived in the area in 1875. So far, however, the town has yet to commemorate the Harry Potter books that are printed at nearby Friesen Printers.
After Altona, keep heading west to the Pembina Valley and the twin cities of Morden and Winkler. I recommend visiting Morden first, then Winkler. Morden is a pretty town but not quite as Menno as Winkler and, thus, features historic stone buildings (considered too worldly for Mennonites), fossils of dinosaurs (considered fictitious by Mennonites), the Manitoba Baseball Hall of Fame (baseball is acceptable, except on Sundays, of course) and corn and apples (very tasty, even for Mennonites). And unlike its slightly more-Mennonite neighbour of Winkler, a trip to Morden comes with adult beverages.
So, yes, you'll have to go to nearby Winkler to get your Menno on. If you have a map and a good Mennonite historic atlas, you can see the spot of the first Mennonite Brethren church in Canada just outside of town, as well as the Wall of Remembrance, which honours Conscientious Objectors, many of whom were Mennonite. You can also learn about the agricultural history of the region at the Pembina Threshermens Museum, before stopping by at the Chicken Chef or the new Taco Time.
Where to Sleep: I'm sure most of you will be staying with frintschoft and/or Mennoniting Your Way. But, if these options are not desirable to you, there are places to camp throughout the region, though make sure you do it at an official campground. As tempting as it may be, the City of Steinbach does not permit camping in AD Penner Park or sleeping in the Big Red Car in front of Superstore.
If you've overstayed your welcome at the relatives (as Mennonites are prone to do) and, thus, find yourself in need of a hotel, there are a few in Steinbach, Winkler, Altona, and Morden to choose from. Unfortunately, though, the MHV does not allow visitors to sleep over in the sod hut, though you could call up my Taunte Lina and ask to sleep in her cellar with the pickles. I'm sure she (and the pickles) would appreciate the company.