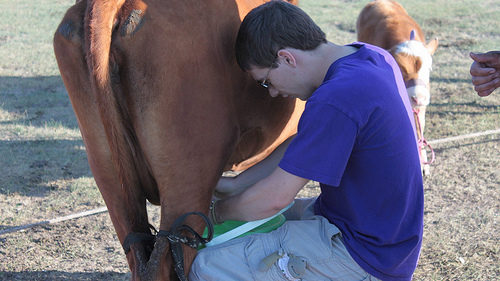 NEWTON, KS
Mennonites across the country will be going about their regular business today as if it were any other day. The reason being is that just because America is celebrating it's first Independence Day with Trump as President doesn't mean the cows don't need milking.
"I'd love to be out celebrating the first Trump Independence Day with everyone else, but Betsy's udders require regular attention," said Ernest Fehr of Newton. "Every morning and every night I've got to milk her even if it means missing a chance to celebrate everything President Trump has accomplished in the past six months."
In addition to Betsy, Fehr says he also has to milk Daisy, Joy, Diamond, Cricket, Edith, and Dextra.
"These are demanding cows," said Fehr. "They'll moo until the cows come home if I don't milk them on time."
In the meantime millions of Americans will be celebrating six months of the Trump Presidency with fireworks and a large glass of delicious milk without every stopping to ponder the great sacrifice made by all those Mennonite dairy farmers out there.
(photo credit: by Richard Perry/CC)