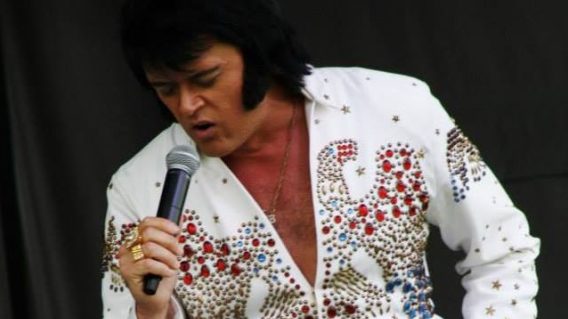 CLEVELAND, OH
Local Elvis tribute artist and radio personality Corny Rempel is set to become the first Mennonite elected into the Rock and Roll Hall of Fame.
"As far as the Rock Hall is concerned, this was a long time coming. For a man of his talents to not be in the Hall, well, that's just unthinkable. He's been snubbed for far too long," said Rock Hall president Greg Harris from his Cleveland office.
Harris cited numerous contributions from early Mennonite rock pioneers such as Aganetha Penner, known mostly for her drug-fueled autoharp solo at Woodstock and Henry Dueck's The Dark Side of Yantzied, a seminal Menno-rock album which some listeners still insist can be synced up to play with The Wizard of Oz. The lack of Mennonites in the Rock Hall was "embarrassing," said Harris. "We're happy to finally be remedying that."
After numerous second and third place finishes at international Elvis competitions, Rock Hall voters, which include critics from around the world, selected Corny Rempel for his "otherworldly ability to evoke the spirit and essence of the King of Rock, while successfully repressing a thick Low German accent."
"I'm at a loss for words," said the usually loquacious Rempel, sporting a tight white sequined jumpsuit. "To think that my name will be up there with Buddy Holly, The Beatles, and Elvis himself. It's quite the honour for a young lad from Steinbach."
Previous Rock Hall inductees offered well wishes. "I always thought the real Elvis was over-rated compared to me," said 80-year-old Jerry Lee Lewis, "but when I hear Corny Rempel belt out 'Suspicious Minds,' I get goose bumps. Literally. Look, touch my skin right now."
The ceremony, which will attract dignitaries and celebrities such as the Dalai Lama, Snoop Dog, and Wolf Blitzer is set for July at Randolph Garage, a few miles down a dirt road west of Steinbach.