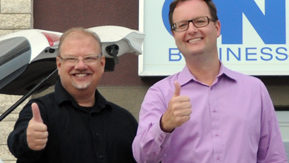 STEINBACH, MB
Despite the fact that Steinbach, Manitoba is home to the largest concentration of Goertzens in the world, Chris Goertzen, mayor of Steinbach, and Kelvin Goertzen, local MLA, are having a hard time convincing area residents that they're not related.
"There are like seven thousand of us in the local phone book," said Goertzen, "and we can't all be siblings, can we?"
Goertzen, on the other hand, maintained that he was not Goertzen's brother to which Goertzen replied, "yeah, but I guess we kind of look alike."
Goertzen, meanwhile, insists this is all just a coincidence. "I was walking down Goertzen Street the other day when little Timmy Goertzen came up to me and asked if I was the mayor of Steinbach. I just laughed and told him to ask Goertzen about it."
Both the mayor and the MLA sat down with Daily Bonnet reporter, Thomas Goertzen, to discuss ways of improving the plight of Goertzens in the community. They all agreed this was Steinbach's most pressing issue.