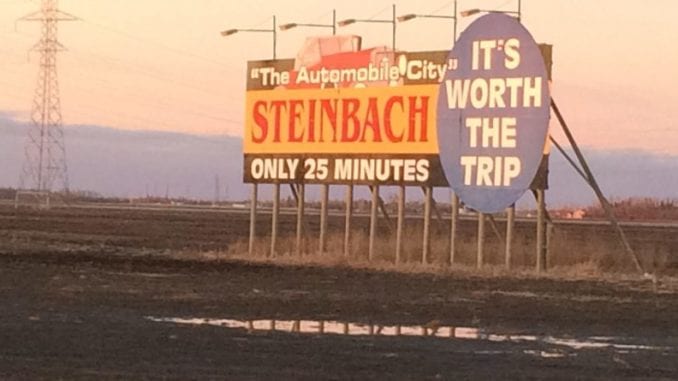 STEINBACH, MB
For decades a sign just outside of Winnipeg on Highway 1 informed drivers that they were just "25 minutes" from Steinbach, the Automobile City. However, rigorous scientific research has proven that the 25 minute estimate may be more than a little optimistic.
"If you start timing right when you reach the sign," says Manitoba Highway official Erin Kleinsasser, "and set your cruise control at 100 km/h, which is the speed limit, you will barely reach Blumenort in the 25 minutes."
Some feel that the sign encourages speeding, as it would require a speed of at least 110 km/h to reach Steinbach in that time.
"And even then, you only reach the outskirts," said Kleinsasser. "To reach downtown Steinbach would take another five to ten minutes."
Local pastors were shocked at the misleading sign.
"It's encouraging people to break the law by speeding," said Reverend Hiebert. "I can't believe we've been leading people astray like this for so many years."
An interfaith prayer and reconciliation meeting about the slightly misleading sign is being scheduled for this Sunday.