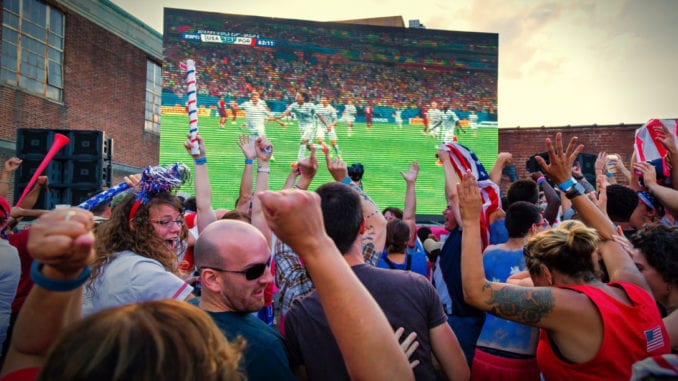 MOSCOW, RUSSIA
FIFA has announced its final rankings just before the 2018 Mennonite World Cup in Russia. Some of these rankings have us a little baffled. Let's have a look.
1) Russia  – Some have been shocked to find Russia number one on the list, especially since there are very few Mennonites left in the country. Pundits have suggested that perhaps the voting was influenced by pro-Russian memes on Facebook. I guess we'll never know.
2) Belize – Mr. Friesen of Shipyard Colony will have to sit out the first game of the tournament due to a red card he received for improperly milking a neighbour's cow last week. The Belize team is strong, but without Mr. Friesen they are not number one.
3) Brazil – The Curitiba Kleine Gemeinde Men's church league team dominated play over rival MB and General Conference teams to earn their way into the FIFA Mennonite World Cup. Rumour has it the MB and GCers had a few two many caipirinhas at the time of the match.
4) Ethiopia – This is the first year Team Ethiopia has made it to the FIFA Mennonite finals. With a 6 to nil victory over the United States in the hymn singing competition, Team Ethiopia is one of this year's top contenders.
5) Mexico – Strong contenders from Chihuahua dominated last year's knackzoat competition, but have been known for their soccer abilities as well. Opponents will have to avoid Mrs. Penner's hot sauce if they want to stand a chance.
6) India – The Mennonite team from India got a confidence boost in 2017 after dominating the Mennonite cricket competition last year, during which time they spent teaching all the other Mennonites the rules of the game. They look to parlay this confidence into a FIFA victory this June.
7) Germany – The only High German-speaking team will have to brush up on their Plautdietsch if they wish to stand a chance, especially since all the officials are coming from Yantsied.
8) Paraguay – The Paraguay Mennonite Men's team is used to playing in the hot Chaco sun, so with a more temperate Russian summer climate, the team may see an increase in goal production. Not much we can do about their dairy production, though, as Russia refuses to let the cows into the country.
9) The Netherlands – The Dutch team has done well in the regular Englisher World Cup, but will need to lay off the pot if they want to come out victorious in the Mennonite competition. Team Canada faces the same obstacle.
10) Bolivia – Team Bolivia defeated Team Uruguay to qualify for the FIFA Mennonite World Cup this year. Team Uruguay is still rather upset about it and refuses to sing 4-part harmony with any Bolivians until the matter is settled.
11) Switzerland- Much like their cheese, there are plenty of holes in the Swiss defence. However, they stand a chance if they can convince Stephane Chapuisat to come out of retirement and be re-baptized.
12) United States of America – Team USA is made up mostly of liberal Mennonites from around near Goshen somewhere. The horse-and-buggy Mennonites from Pennsylvania are known for their ball-kicking abilities, but refused to play when they found out the games would be televised.
13 – 199) All the other countries….Every other country in the world, even ones without any Mennonites like, say, Tuvalu and Iceland, rank somewhere between number 13 and the lowly Canadians.
200) Canada – The presence of a few Mexican Mennonite boys from Taber was not enough to dig Team Canada's Mennonite soccer team from the very bottom of the world rankings. However, the Canadians dominate Mennonite floor hockey tournaments.
(photo credit: Mobilus in Mobili/CC)