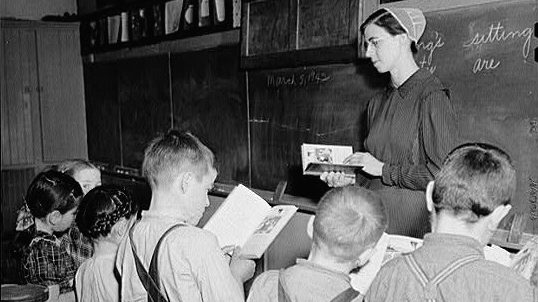 Dear Mr. and Mrs. Unger,
Welcome to Friedensruh School. Prädja Enns and I are very happy to have your children Abe, Mary, Anne, Henry, Knels, Lina, Elizabeth, Ruth, Art, Sarah, Nettie, Johan, Martha, Benjamin, and little Klaas in our class this year.
Here are a few items you need to bring with you for the start of class in September. Each student will need:
One box of Kleenex. You will get any unused tissues back at the end of the school year. If you would like to retain the used tissues as well, please send a note along with your child stating as such.
One large plain nondescript backpack. Batman, Dora, Paw Patrol, and Peppa Pig-branded products are strictly forbidden.
Two pairs of rubber boots. One rugged outdoor pair, and one nicer pair that will remain indoors.
Ink. We provide the fountain pens, but you must make sure to bring enough ink to last a full school year. And, no, we don't need any of those weltlijch HP high capacity printer cartridges.
Two large ice cream pails of grandmother's cookies. We will save these and distribute them during afternoon faspa throughout the school year.
One cord of firewood. The fire-stoking schedule will be handed out to students at the beginning of the year.
Four horseshoes. These will provide the school's two sturdy horses, Conscientious Objector and Sir Conrad, with proper footwear. Excess horseshoes will be used for recreation purposes by students during Physical Education and recess.
One KJV or Martin Luther German Bible. This will be our only textbook for the year.
One large Red River Ox Cart. For transportation purposes, obviously.
Your lovely singing voices. We do a lot of singing at Friedensruh School. Every morning we sing, "God Save the Queen." In the afternoons it's "Praise God from Whom All Blessings Flow." Before every long weekend we let loose and belt out the Doobie Brother's classic "Jesus is Just Alright with Me."
Please also bring $12 each. This is how we pay the teachers.
Thank you and see you next week,
Ms. Friesen
Grade 1-8 Teacher
Friedensruh School
Blumenhof, SK
(photo credit: By John Collier)