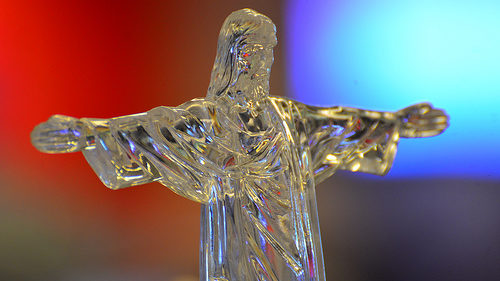 WINNIPEG, MB
Local woman Sarah Plett has reluctantly held onto the tacky glass Jesus statue that her Uncle and Aunt brought back for her from a trip to Brazil they took in 1987.
"I was only 10 at the time," said Plett. "But even back then I was thinking, 'Geez, Aunt Susan, couldn't you have brought me a book or some cool clothes or something?'"
Plett claims she put the souvenir up on her dresser in the late 80s and has kept it with her ever since.
"That's the problem with Jesus souvenirs. You can never throw them away," said Plett. "I'd even feel a little guilty about donating it to the MCC."
Plett claims her distaste for the gaudy trinket is no indication of her spiritual condition, but worries that others might perceive it that way.
"I don't want anyone to think I've left the faith by getting rid of this thing," said Plett. "So, I guess I'll just hang onto it for the rest of my life."
Plett also has a huge collection of juvenile Bible study books, tracts, inspirational posters, and religious nicknacks on display in her home.
"People think I'm a collector," said Plett. "After a while people started to think I was into that kind of stuff. But really it's just that I can't ever get rid of it, so my collection has grown."
Plett is currently seeking pastoral support for her terrible problem.
(photo credit: by Ben Sutherland/CC)