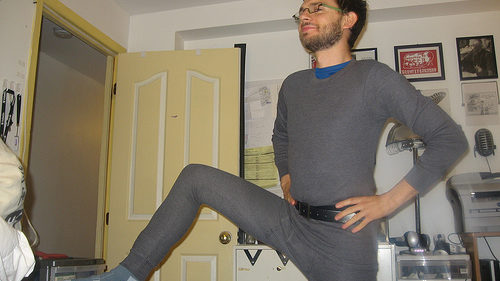 WINKLER, MB
Fashion industry insiders are predicting a surge in the sale of long underwear this winter. There was a time when this garment, "long johns" as they are sometimes called by Canadians and/or Mennonites, was reserved for underwear, but experts are predicting it may be worn more liberally this winter.
"This was a long time coming, quite frankly," said industry insider Bethanne Davies. "The Mennonites have been wearing long johns as outerwear forever. It was inevitable it would eventually catch on with the rest of the community."
Davies was one of dozens of high profile fashionistas at the first annual Long John Extraveganza Fashion Show in Winkler this past week.
"We had Mennonites from all over the Pembina Valley modelling long johns," said Davies. "It really was quite the experience."
A highlight of the show was a Karl Lagerfeld-designed long john featuring shimmering gold tassels along the waistband, and a vintage Yves Saint-Laurent long john with tearaway legs.
"It's safe to say Mennonites aren't the only ones who will be disappointed with their Christmas gifts this year," said Davies. "This is the year everyone's getting long johns."
(Photo credit: by PinkMoose
)