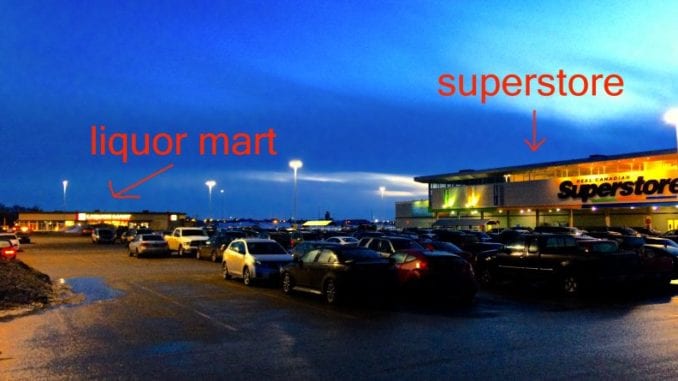 EAST VILLAGE, MB
Every evening the local Superstore parking lot fills up with dozens of vehicles belonging to people who don't want their cars seen in the Liquor Mart parking lot.
"I park at Superstore, run a few bags of Doritos through the self check-out, then walk over to the LC for a mickey of rum," said local man Bernie L., who asked that we not use his last name. "I don't want fellow church members to recognize my Accord in the Liquor Mart lot."
The local Liquor Mart is believed to be one of the busiest in the province, but somehow their own lot is always mysteriously empty.
"People keep streaming in here, filling up growlers of craft beer, buying 20-year-old bottles of fine Scotch, trying out a new South African wine," said a local LC rep. "I have no idea where all these people are coming from because there ain't no cars in our lot."
The proximity of the liquor store and grocery store offers local Mennonites the chance to buy their booze without any concrete evidence of their purchase.
"We walk from the grocery store, pay in cash, and then quickly hightail it out of there before Reverend Friesen catches us on one of his hourly rounds," said Mr. L. "The flow of people from Superstore to the LC is quite the sight. I call it the Mennonite Exodus."
This summer, the Manitoba tourism board is planning to offer tour packages to southern Manitoba that offer visitors a chance to observe the Mennonite Exodus in person.