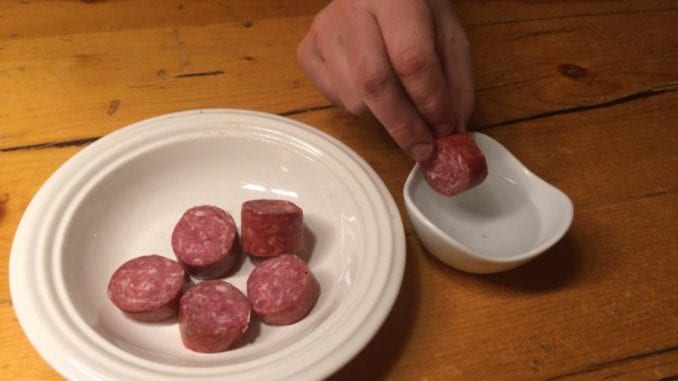 Whether planning a fancy wedding reception this summer or just a cocktail party at the lake house, you're going to want to have hors d'oeuvres that leave an impression. Although it takes considerable time and preparation, here is one of our favourite Mennonite hors d'oeuvres. The recipe is rather complex, so be prepared for 2-3 hours of prep time. It's well worth the effort.
Raw Farmer Sausage and Vinegar
Raw farmer sausage
Vinegar
Carefully take the raw farmer sausage out of the refrigerator. Whatever you do, be sure not to cook it or it will no longer be raw! Cut it into bite size pieces. Pour some white vinegar into a small bowl. Sprinkle some vinegar onto the raw farmer sausage and put it into your mouth. Repeat as needed.
(MBs may prefer to fully immerse the raw farmer sausage into the vinegar, rather than just sprinkling or pouring.)
To leave a lasting impression, you may even consider sticking toothpicks into the pieces of raw farmer sausage. Not only are they good for dipping and dunking, but they'll also be useful for picking the gnurpel out of your teeth afterwards.
Wash it all down with a nice cold Papsi, yerba tea, or dandelion wine.